February was a "being outside and getting things done" month – mainly with the added energy and motivation of various friends and visitors. The month started with a tree planting afternoon with some neighbours (over the winter we rotate going to each others' homesteads and getting stuck in with chunks of work) and ended with us hosting two brilliant WWOOFers, Harriet and Emilie, who got loads done for us.
Daffodil season has definitely started and although the snowdrops have gone over with the unseasonably warm weather we had at the end of the month there are still plenty of crocuses emerging (along with the inevitable tidal wave of daffodils) and plenty more waking up from its winter rest…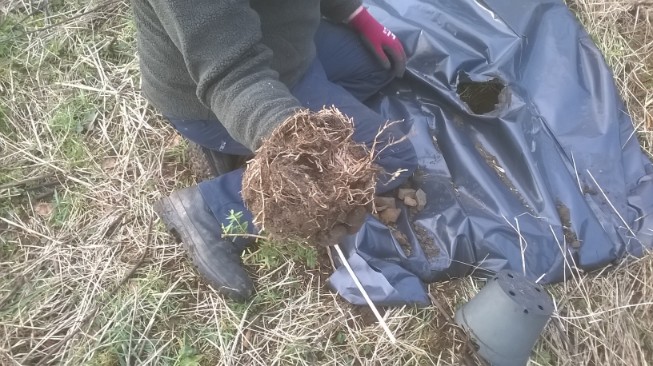 Definitely time to get planted out – this little yew tree was getting a bit pot bound (although sadly has lost some of its "height" to the (this year at least) inevitable deer grazing that happened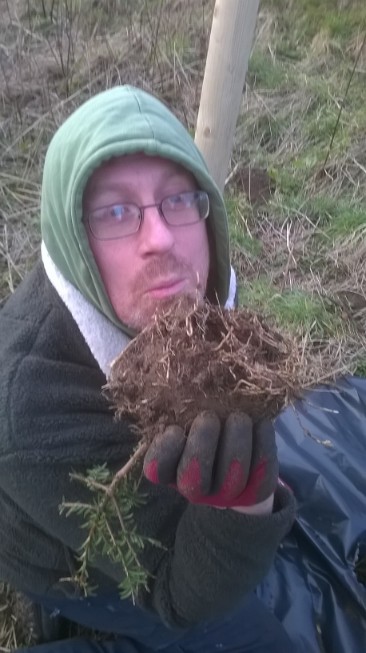 I know Chris likes yew trees, but not entirely sure what the sentiment here was!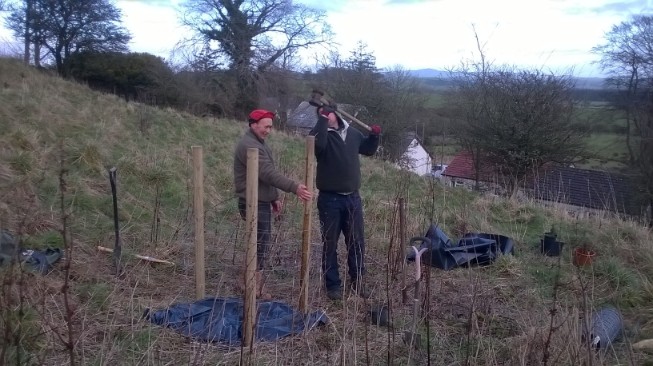 The yews got their own individual enclosures (three stobs, light stock fencing and black plastic round the base….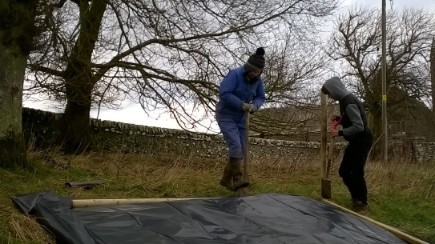 And we also planted up three "squares" with oak saplings. These had actually been purchased last year but never quite made it into their final positions. It's in an area where there are some trees nearing the end of their lives and we're hopeful the oaks will end up being their replacements – just perhaps not in our lifetimes!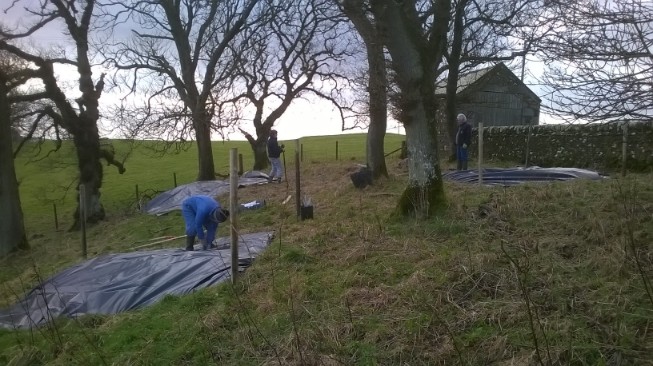 Not the house per se, but one afternoon we went off for an adventure and found both an amazing old viaduct (and with the sunshine / shadows some rather artistic visual assemblages – it being the "Big Water of Fleet viaduct, no less) and some fascinating art in the landscape.
Our WWOOFers, Emilie and Harriet, were great. Both very upbeat, engaging, thoughtful and full of energy, they got loads done (wood carried, brambles dug up, Japanese wineberry plants dug in, fencing put up around our blueberry bushes and raspberry canes (hopefully to deter aforementioned deer), finishing off the prep and painting work of the hallway woodwork and LOTS of super tasty meals and washing up. A delight to host them.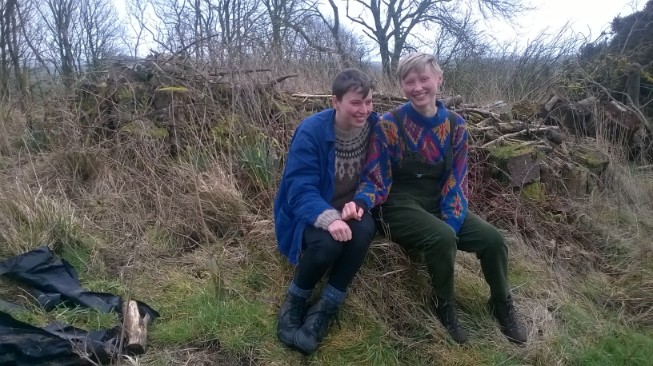 And finally, an assortment of "around the land" shots. This month's challenge is to find the cherry plum blossom (it's there, but the photos didn't quite bring it out in the way I'd hoped for).
Harriet and Emilie surveying the "brash-against-fence-to-deter-deer" set up they'd just been involved in implementing. So far this bit seems to be working. This is one of the main places the deer came on to our land and as a deterrent for this pathway it's doing the job – every little helps, so they say.