January is a significant month. It's two years since Chris and I first saw the house (and land!) It's also two years since one of my aunts died very unexpectedly. January 2016 was a full-on month. And January 2018 was when I really started feeling like we were contributing – positively – to this place we call home.
I'm getting a much better feel of the timescales that work with a project like this (years, not months – although sometimes a lot gets done in just days or weeks!) and as I was spending time on the land I really felt like, if the land had a personality and a spirit, it was communicating that it was really enjoying what Chris and I (and various friends and WWOOFers) have been doing.
Taking down fences. Planting more trees. Turning grass into vegetable beds. Giving care and attention to flower beds and reinstating them. Finding nice perennials from nice places to add. Creating paths. Adding fruiting trees and bushes. And, well, appreciating what a wonderful place we get to call home.
I feel super fortunate – and am delighted to be able to bring you…January 2018 in photos!
It all started with…our 2017 Christmas tree! Gotta have a shot for posterity…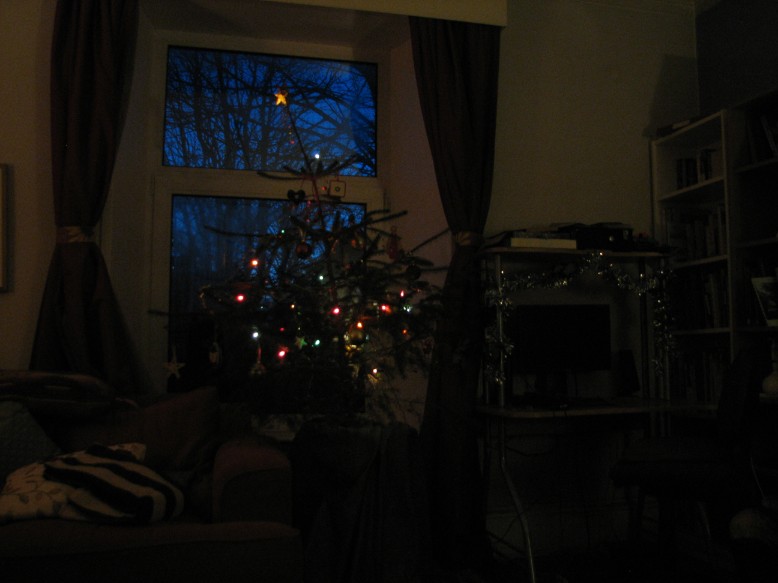 And we were also granted some absolutely GORGEOUS days – and some lovely light on those days. So I'm going to kick off with some "where I live is lovely" photos:
A big thing that happened in January was the digging of holes – and filling them! This next bunch of shots is of the "fruit garden" – on the boundary with our closest neighbours (the polytunnel you see is theirs) but also a great place for both morning and evening sun. It's now replete with blackcurrants (origin: Charney Bassett), redcurrants (origin: Red Start from the Hall, plus a fancy one from Threave Garden shop), gooseberries (origin: who knows), and fruit trees (origin of "2017 plants": Tescos; origin of "2018 planted": Tweedies, a brilliant local fruit tree & bush nursery just outside Dumfries) – plus a "mothership" bush of the Charney currants, the Marcer / Devon currants and our infamous "it was growing wild in a WALL" Katrine Bank wild currant.
There was also more fencing that came out – not much, but a stretch that meant the two triangles (coming shortly) got protected before I dashed off to Morecambe (it was a Sunday and I was leaving on the Monday so no time to go out and buy fencing for the triangles):
So, these 'ere triangles – the first is at the south of our land, on the slope that leads down towards our ash coppice
We also awoke on a couple of mornings to a gorgeous dusting of snow (thankfully didn't impede our doingses too much):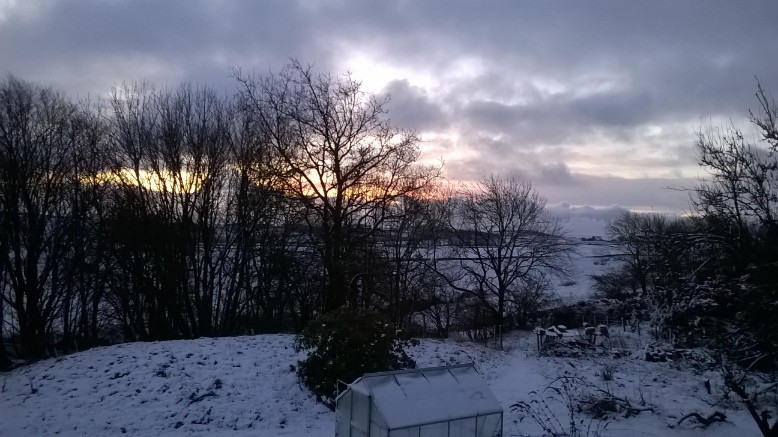 I'm also LOVING how easily currants grow:
And plenty of bulbs pushing through all over the place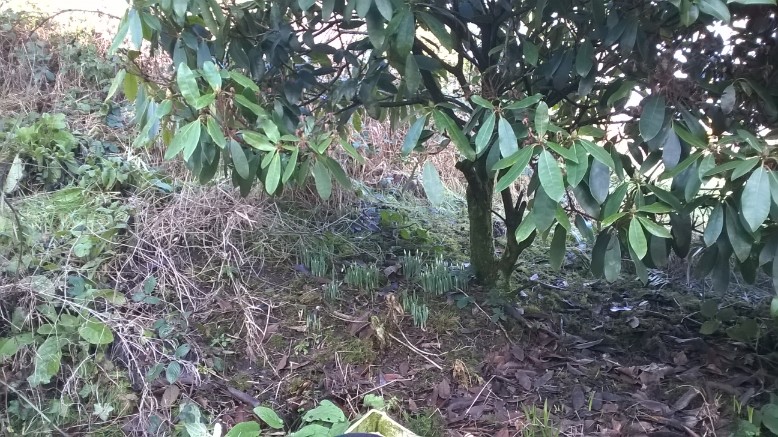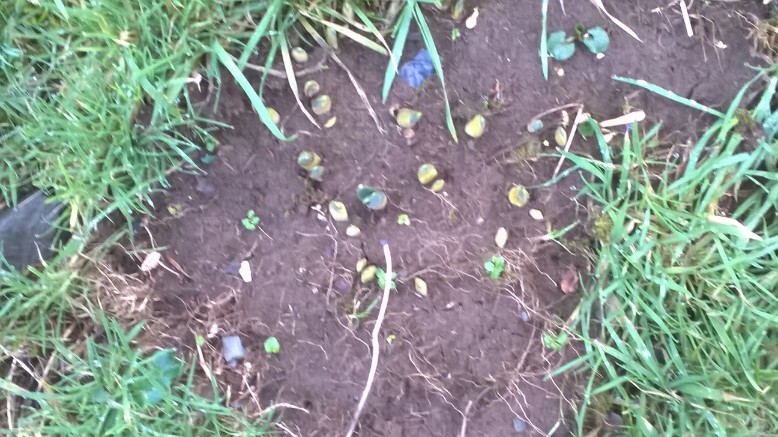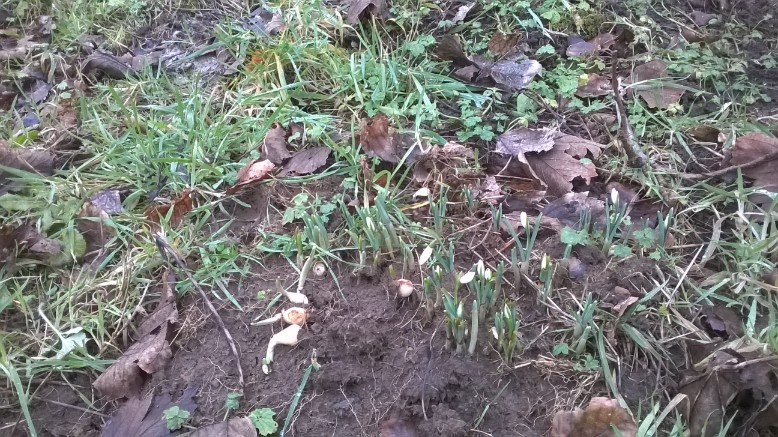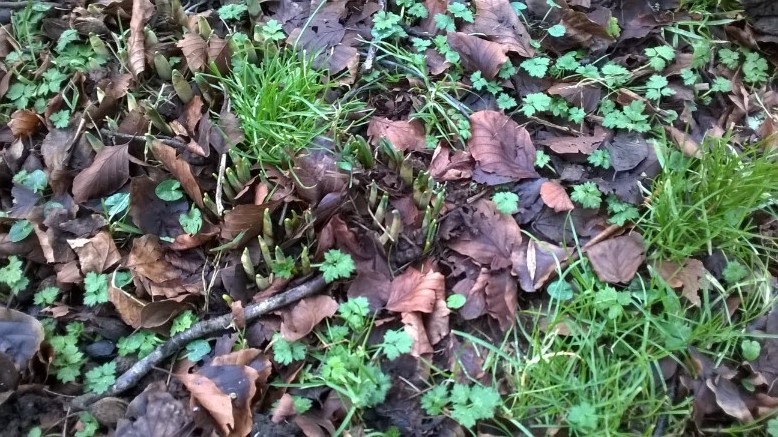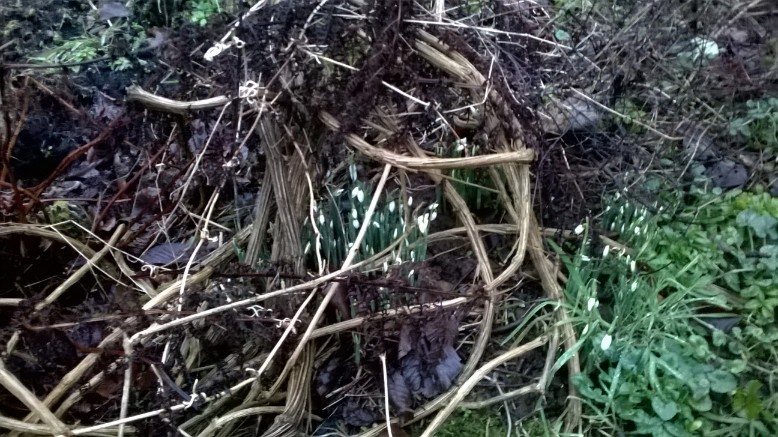 A couple of self-seeded buddleia got planted out
The brash pile didn't grow – but I'm still proud of it!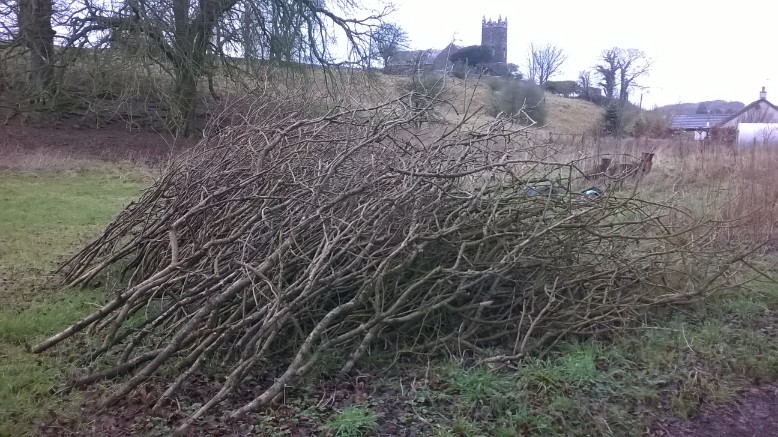 Our 2018 squash holes are marked with bamboo canes – but not yet prepped and mucked…hopefully that'll happen in Feb (she says, writing this towards the end of Feb but remaining hopeful)
And finally, last year's shelter-belt plantings are going strong
Until next time!