So, February. This month's photos are generally "take a look and enjoy" rather than itemised. Occasionally there are "this was pretty and was taken in amongst the "subject matter" photos" photos too, just for fun. They also include some very non-Katrine Bank images but I thought heck, it's 2018, time to shake things up a bit! So, without further ado – February's photos!
The month involved TWO trips down South in relation to a certain boat. After the first trip, when I actually got to see my folks, I had a request put in for some photos of snowdrops, so here goes: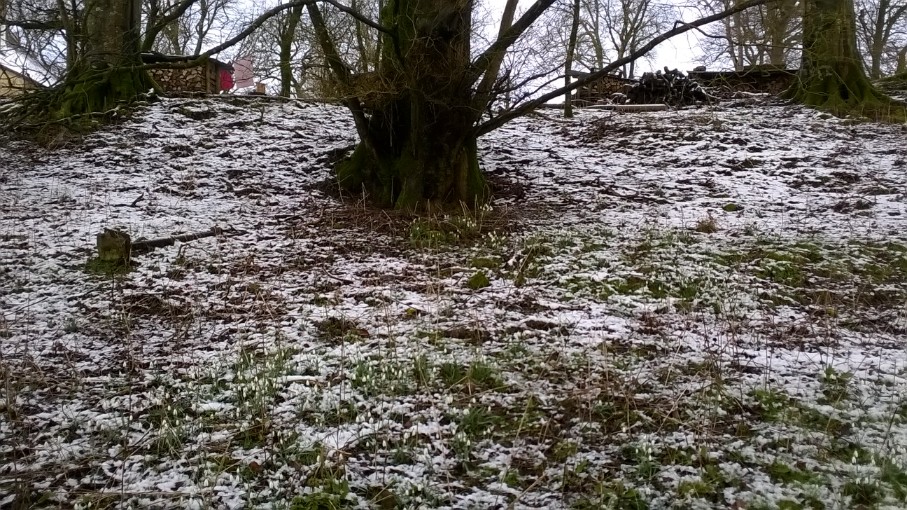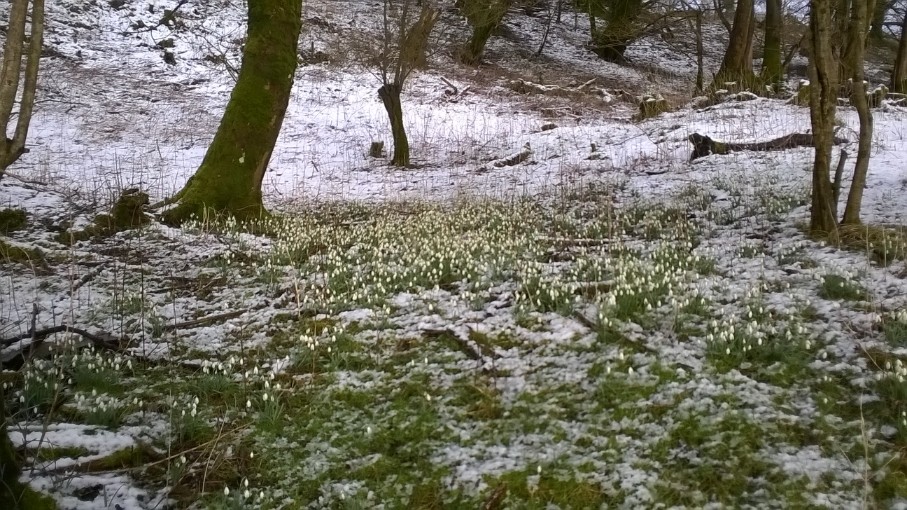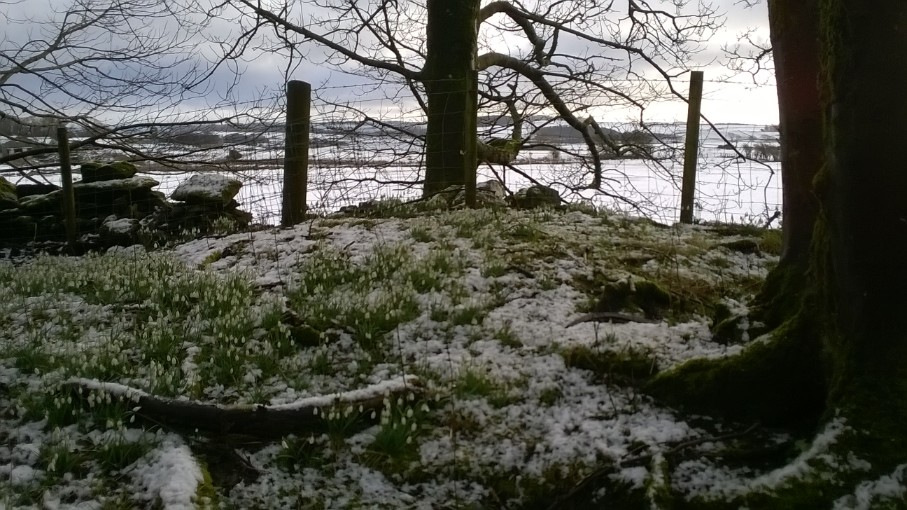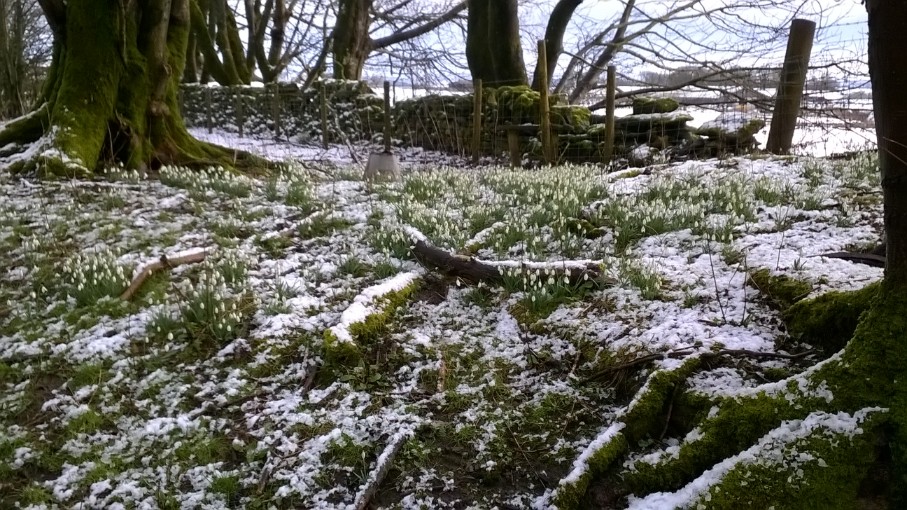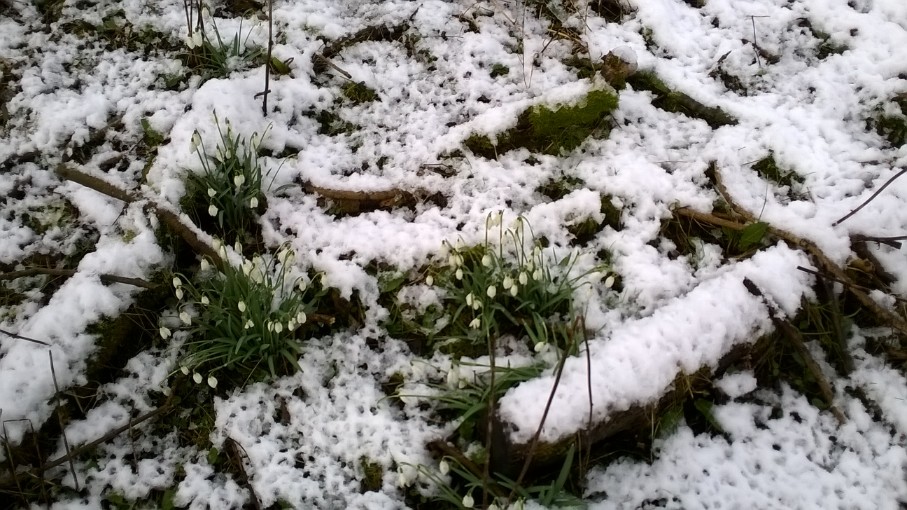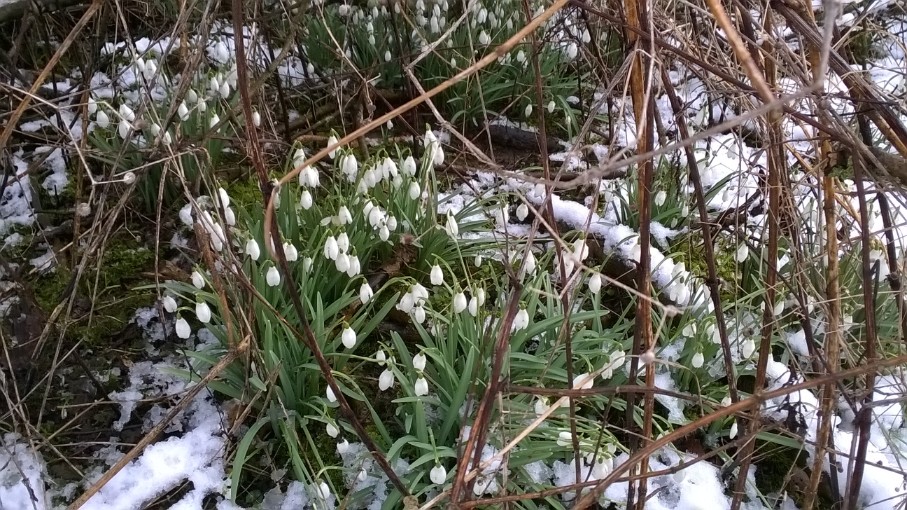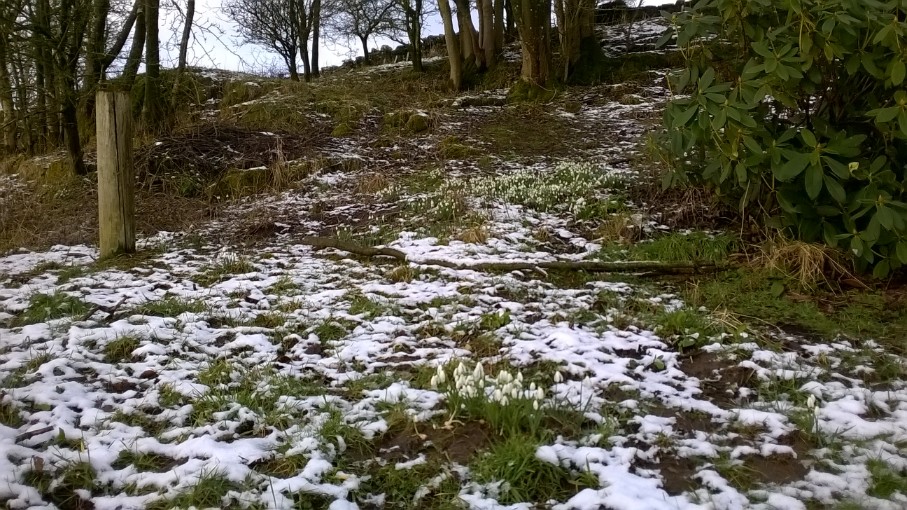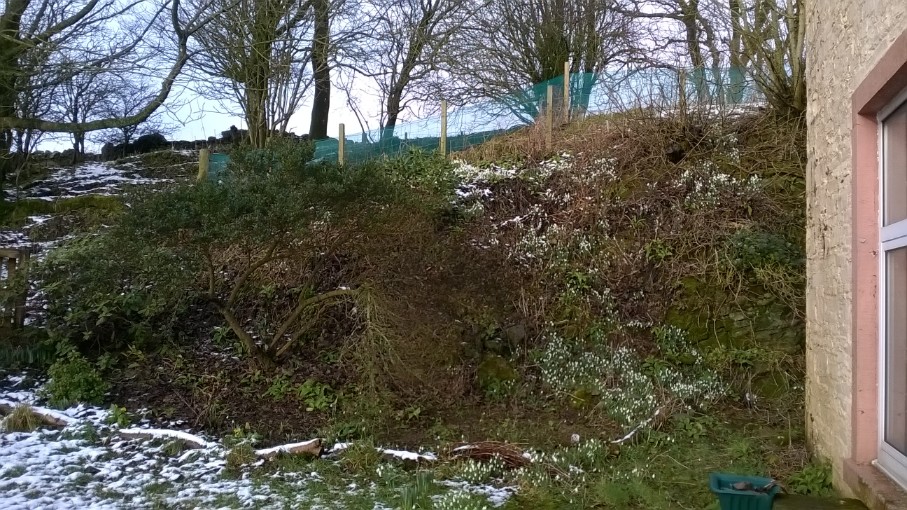 Note the very technical extension to our gutters – the gutters around our house generally go into…a lack of hole in the ground. So rather than a muddy puddle we have an extension taking it across the drive.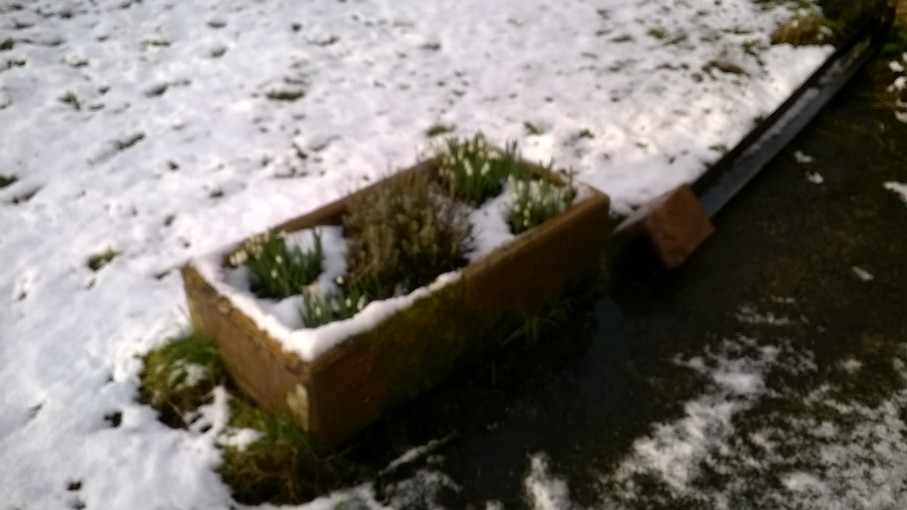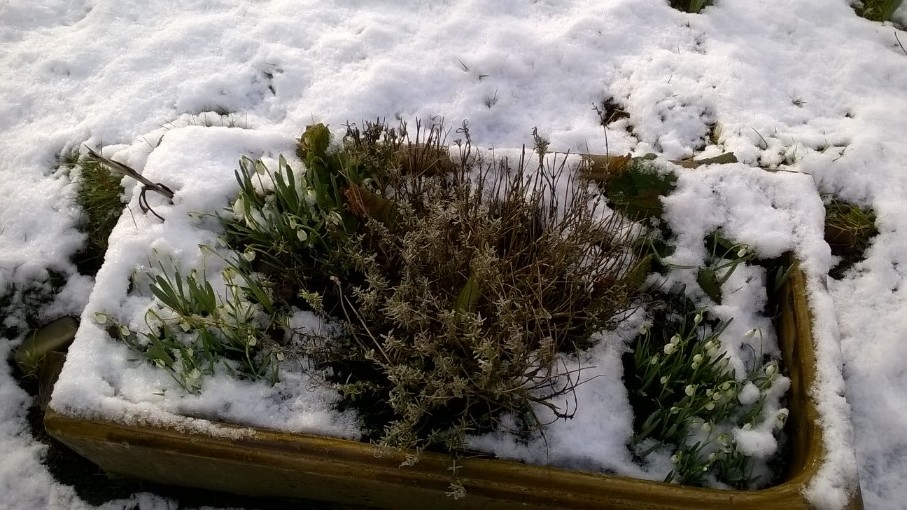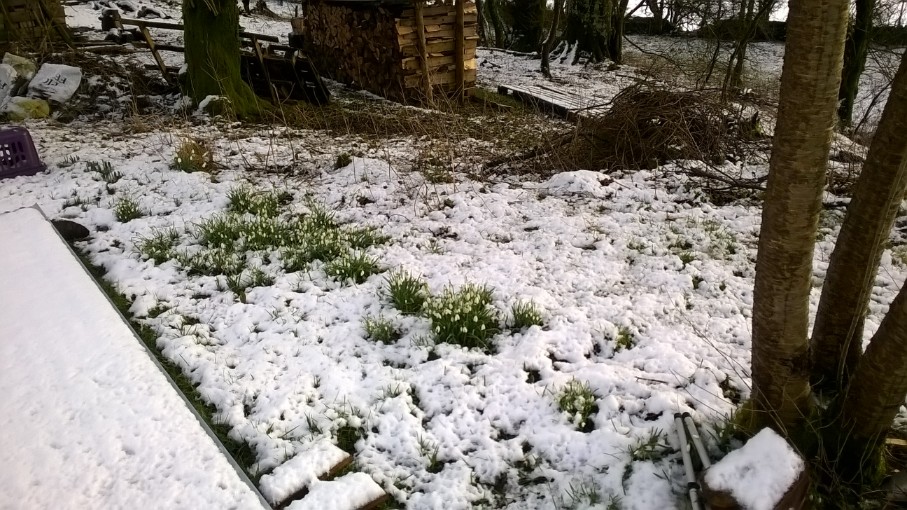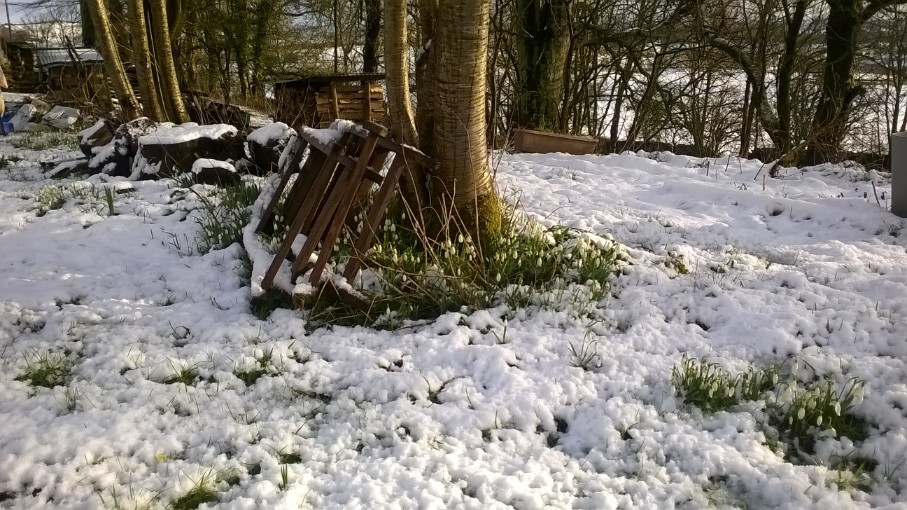 More snow! And more prettiness (which thankfully didn't make getting around too difficult):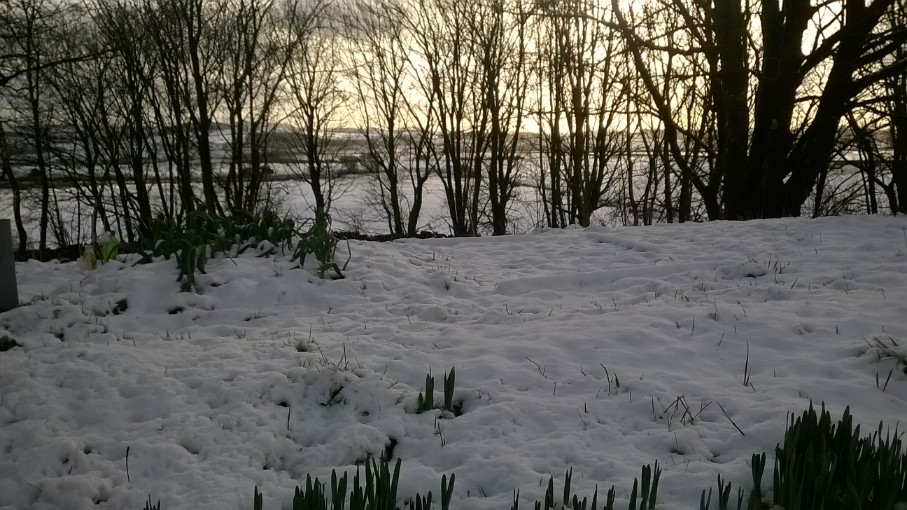 And as a counterpoint – photos from a gloriously sunny day of, well, the different bits of our land growing and stuff…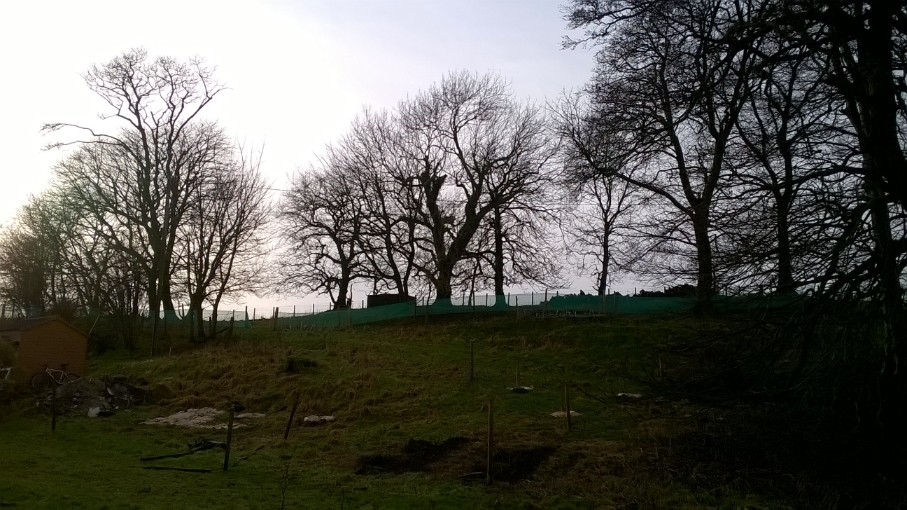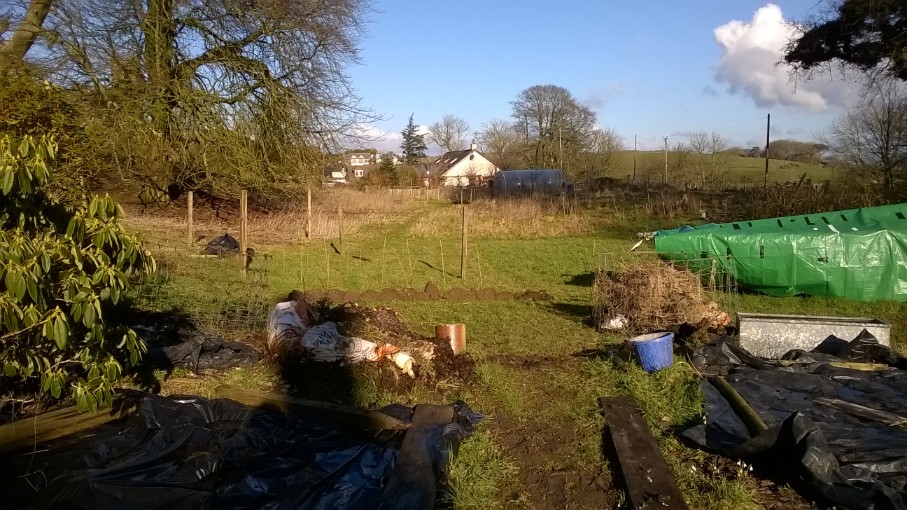 Gradually during February this bed (nominally the 2018 brassica bed – whether we get there or not remains to be seen) was uncovered, had a layer of muck added, and covered up again. Note the very purposeful fork.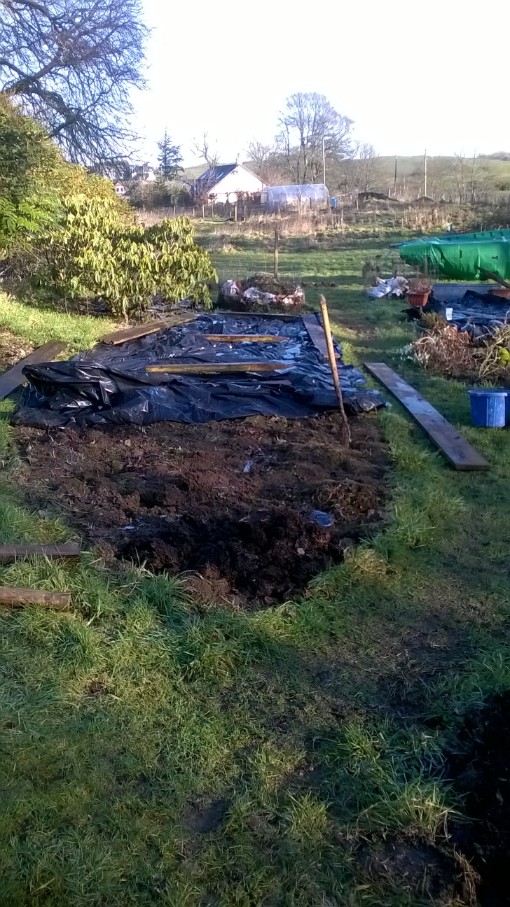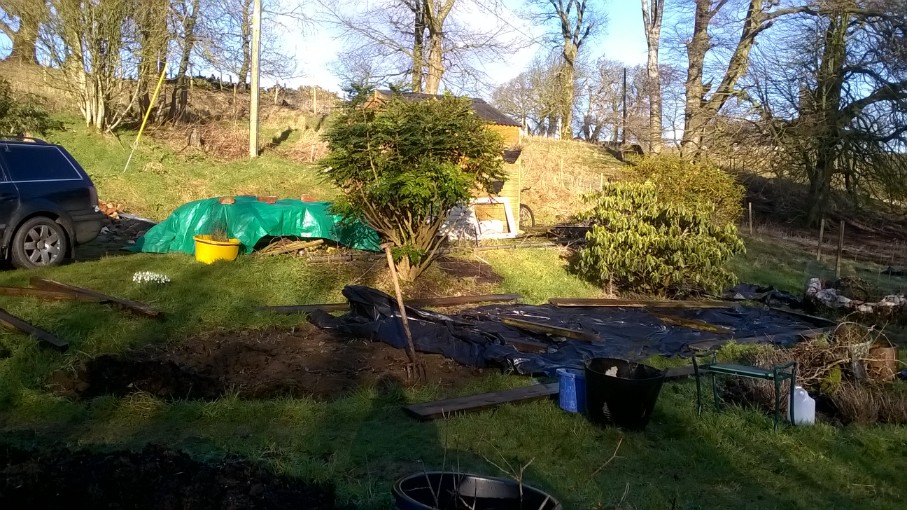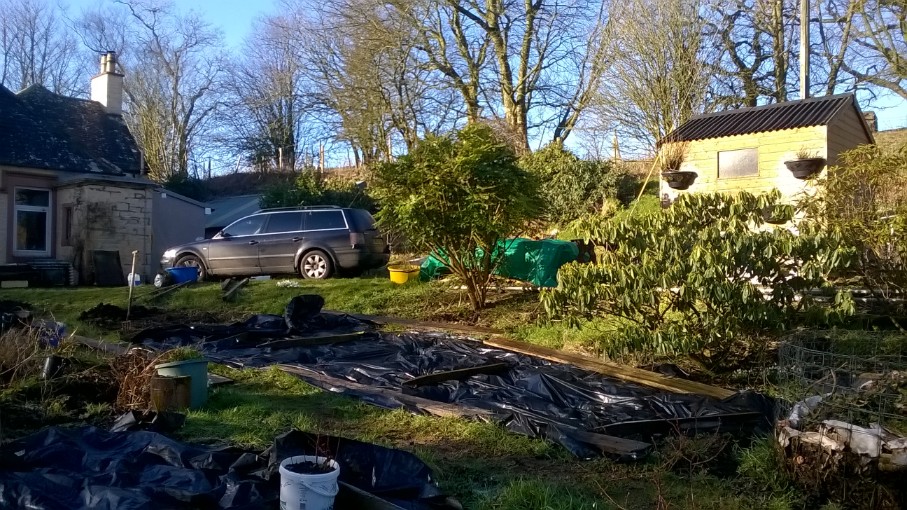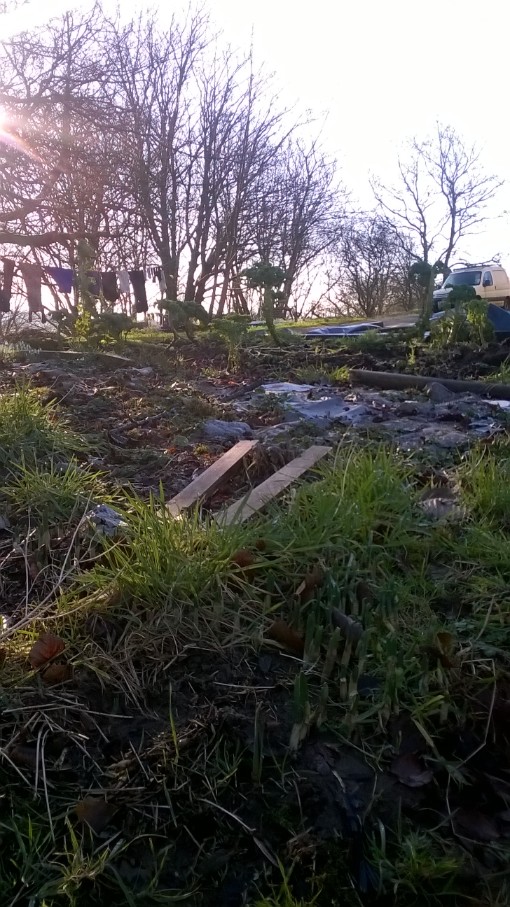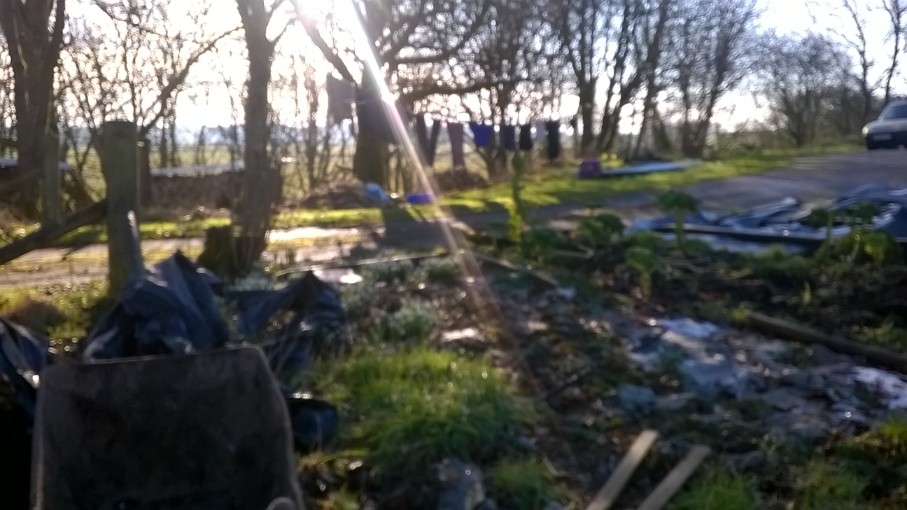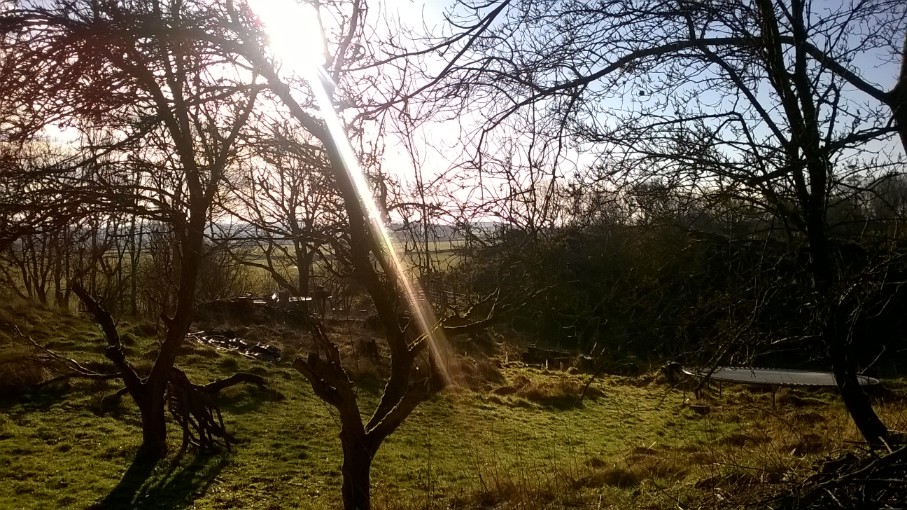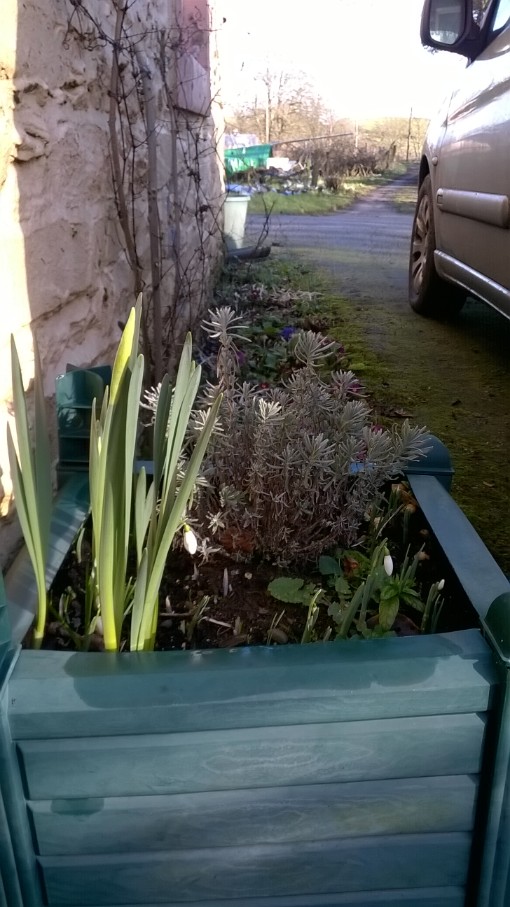 From the left, we've got leeks, then the 15 oak saplings we were aspiring to get in the ground this year (but have realised time is against us, so they've gone in a nursery bed) then…a baJILLION redcurrant cuttings from the cuttings we took off the plants that we put in to the fruit garden. Win! (and yes, there will be bajillions of redcurrant bushes in future years…hopefully!)
Still totally love my trampoline in its new position – best piece of garden furniture EVER (and it does an excellent job of keeping the grass – and nettles – down).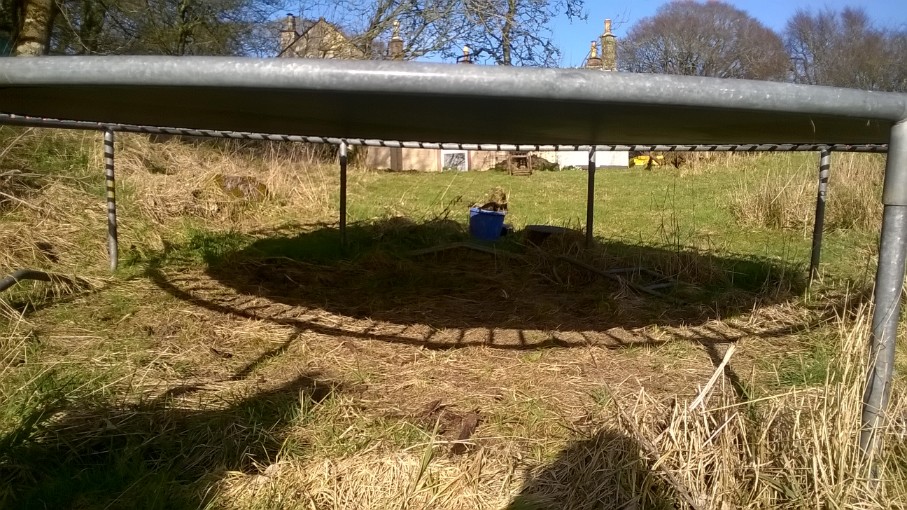 Blueberries! We've got 5 blueberry bushes (several of which actually fruited from their pots last summer) and have now settled into a new home with flour sacks to keep the grass down and bark from the last of the spruce trees we felled to help keep the soil on the acidic end of the scale.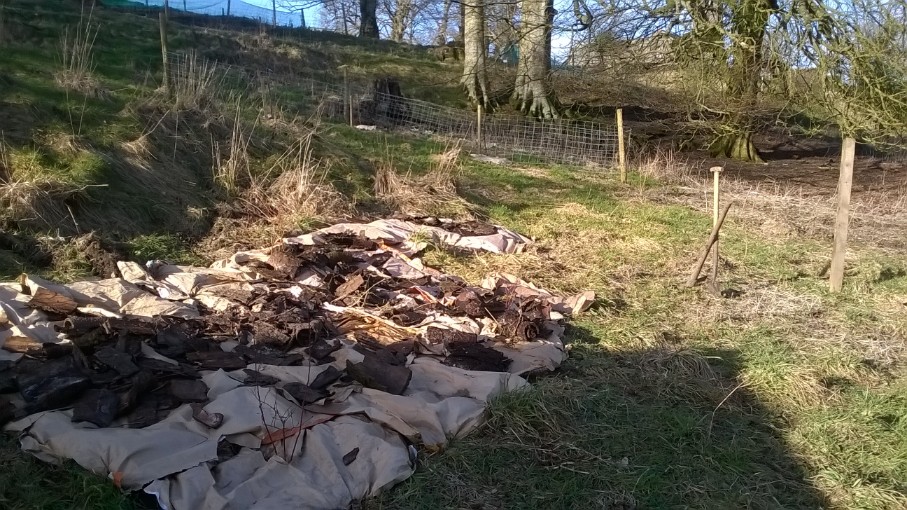 With our damson tree in the middle, this fenced-in triangle is at the southern end of our land and has "Marcer blackcurrants" surrounding it. Noticing the currant theme…?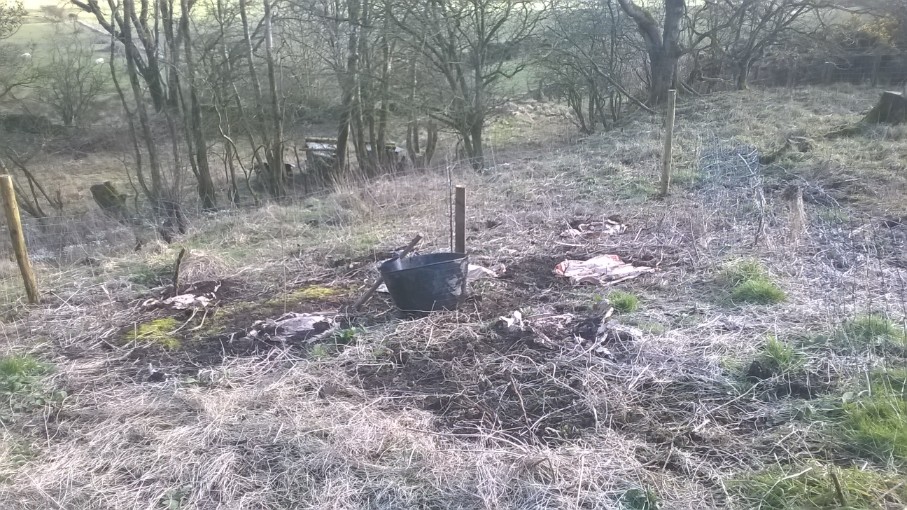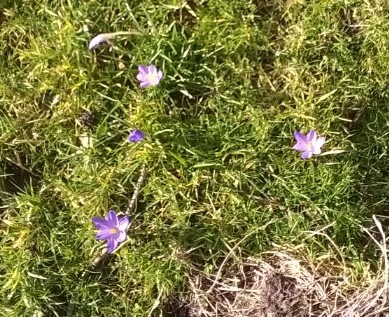 By the front door – really enjoying the sunshine on the crocuses at the moment!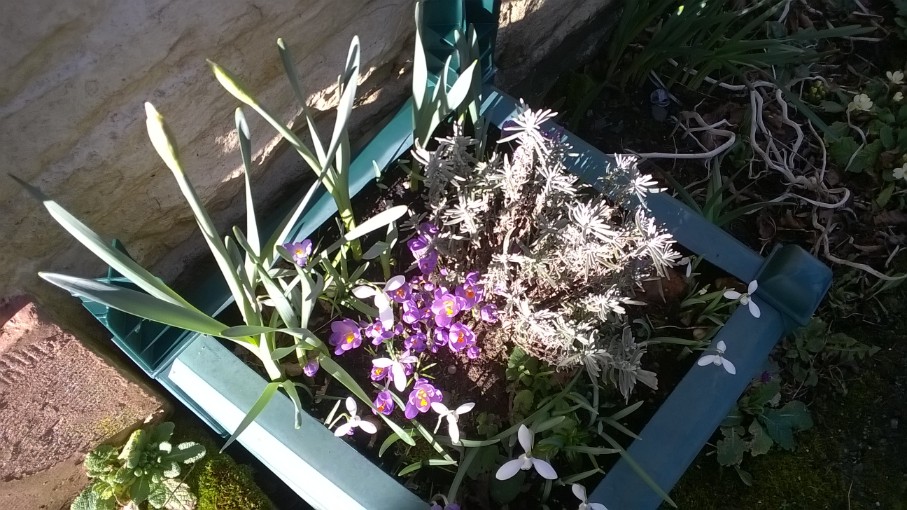 Booja Booja truffles are great – and their Boojagrams are almost as good as the truffles. This particular box was a very unexpected (and delightful) gift from a friend and colleague and felt like it was worth a share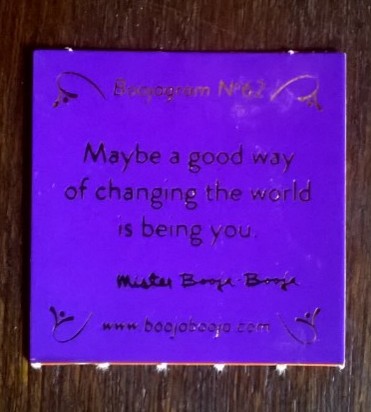 There was also some more tree planting done along our shelter belt – not quite complete (that was to come in March), but getting there. We put up some green mesh (the kind of thing you most often see on scaffolding) in an attempt to give our growing trees, well, more shelter and the first photo down here is me starting to use up some of the strips of black plastic to keep the grass down in between various trees that went in last year.
This is the fix to The Black Slug (the car Chris normally drives) EGR (exhaust gas R-something gizmo) that got us from the boat yard into Bournemouth. Our roadside engineer was a lovely chap and worked magic in his van to put it back together (yes, that is electric tape and cable ties: we got an actual replacement fitted before driving North again).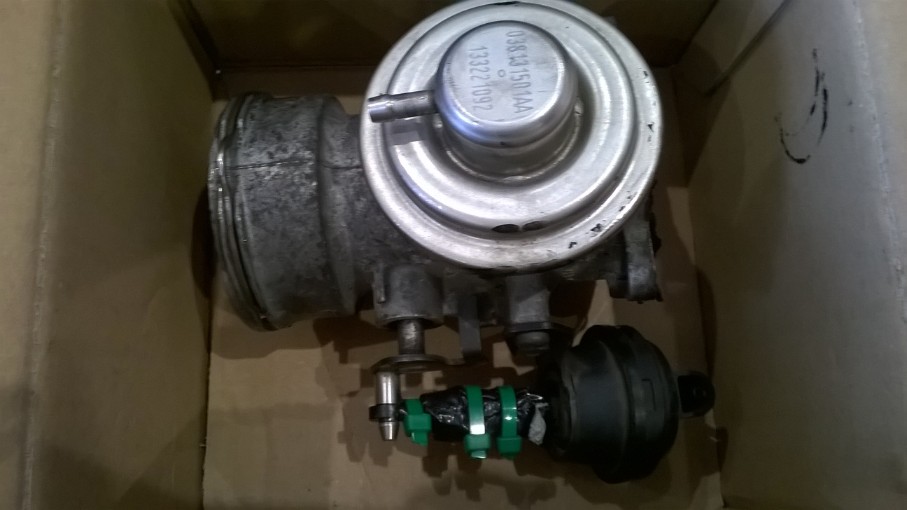 After the second Southern boat trip (which involved prepping the boat for its journey north – by road – a whole photo story in its own right at some point…) I ended up in Morecambe at the VERY tale end of the month – and got to snap some lovely snowy Morecambe photos. Thankfully I wasn't too badly affected by the snow (other than being a bit cold at various points)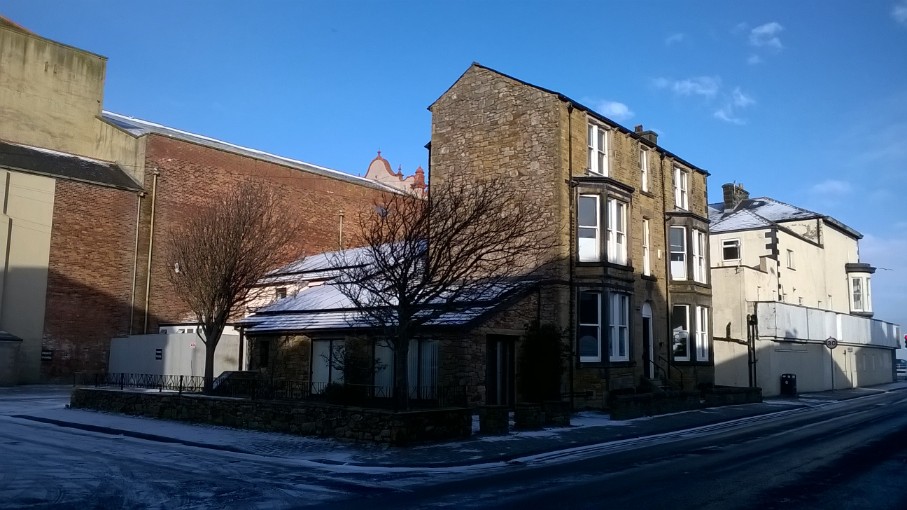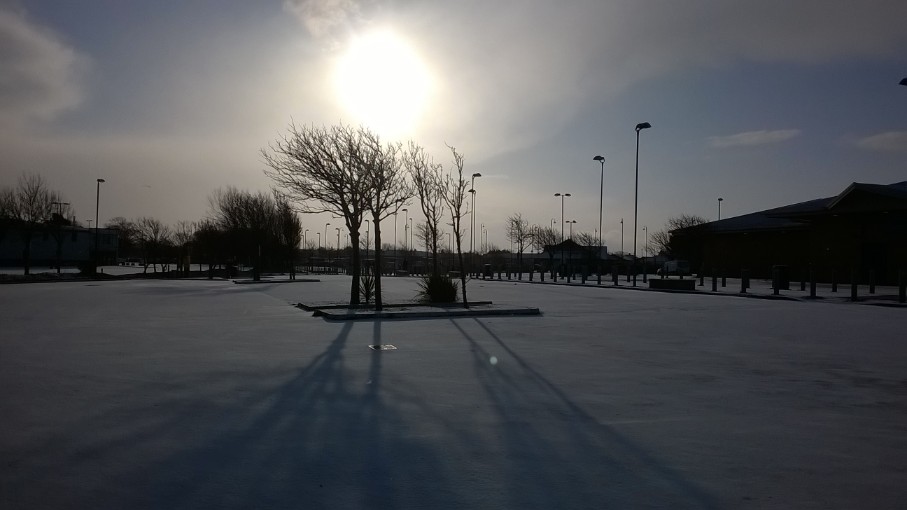 Ironically, given a friend and I were attempting to go bowling "before it shuts down or something", the Morecambe SuperBowl was being demolished in February. And the process of clearing the site continued well into March. I'm not sure what the plans for the site are.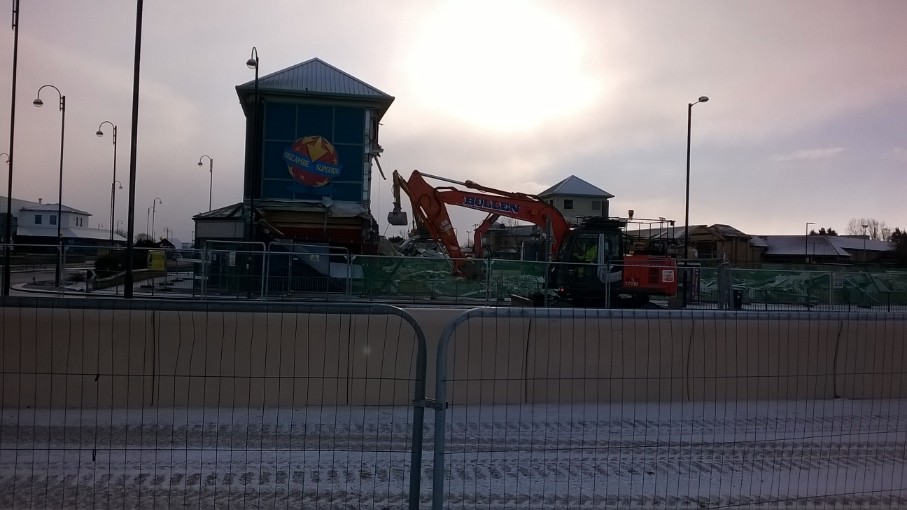 Birdy footprints which I paused on my Brompton to get a snap of. Love it.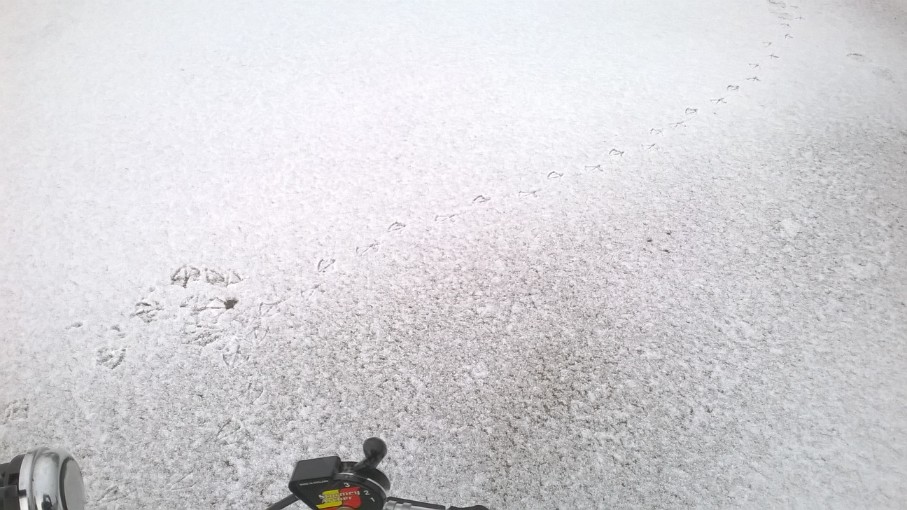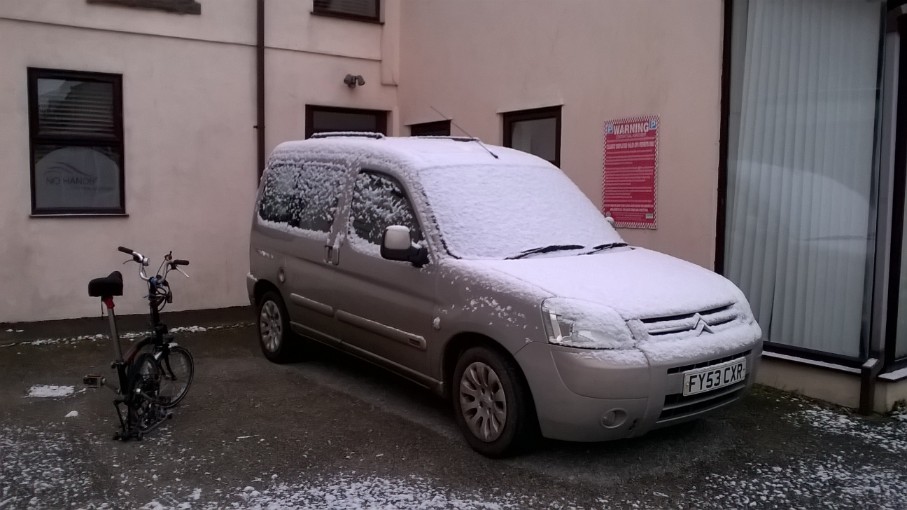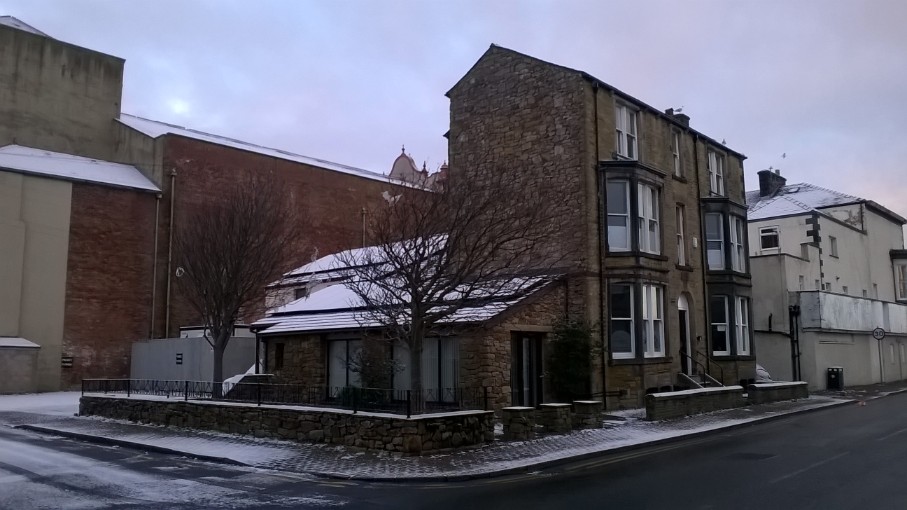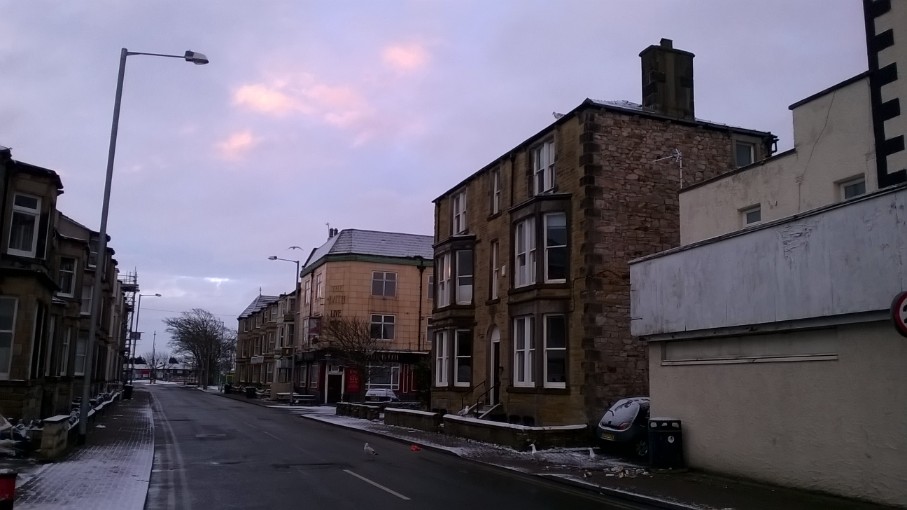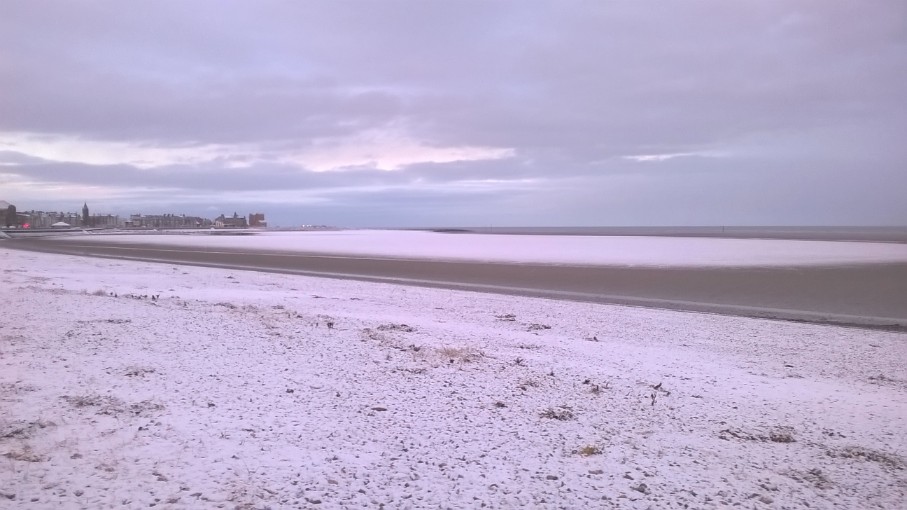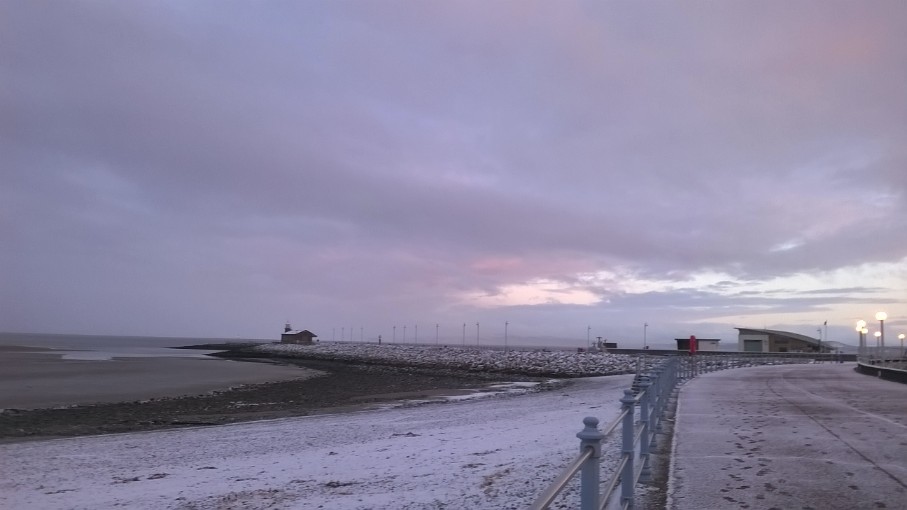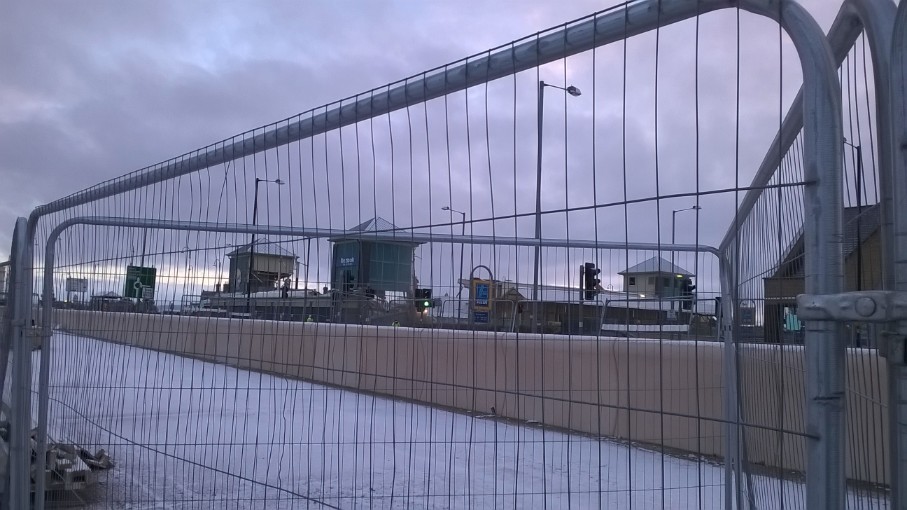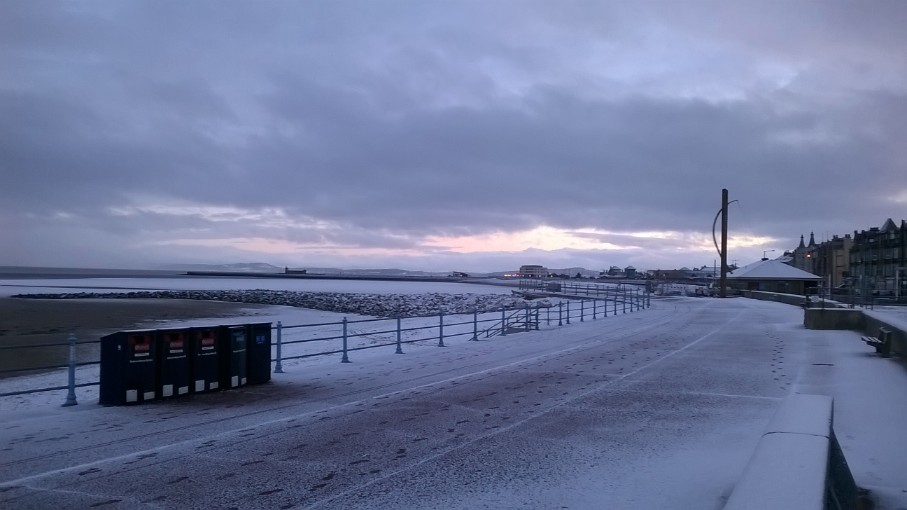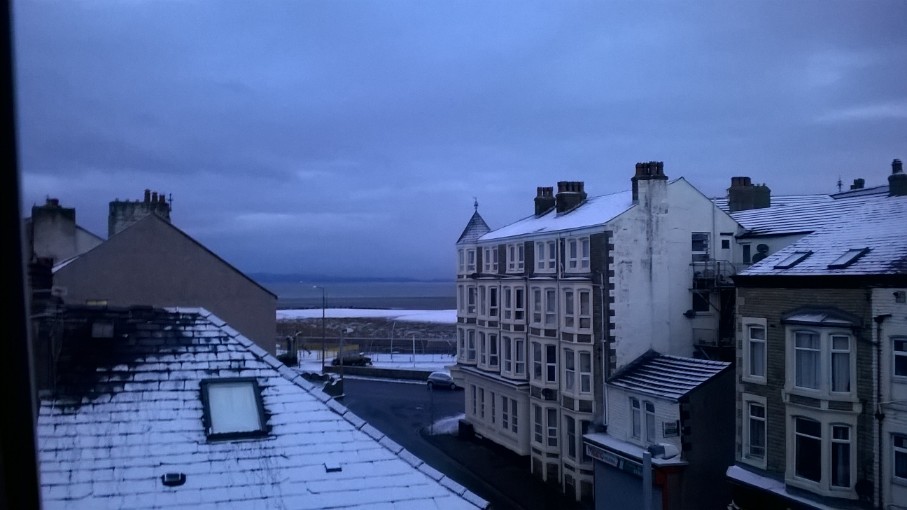 For the record: not a sneaky sun, but a sneaky reflecting in my window of the light. I quite like the effect, though.