March didn't quite know what it was doing with itself. It was beginning to warm up but we had a colder start than previous years and so it took the daffodils considerably longer to emerge. I also spent a fair chunk of time away in Morecambe (and further afield) but there's still progress to report…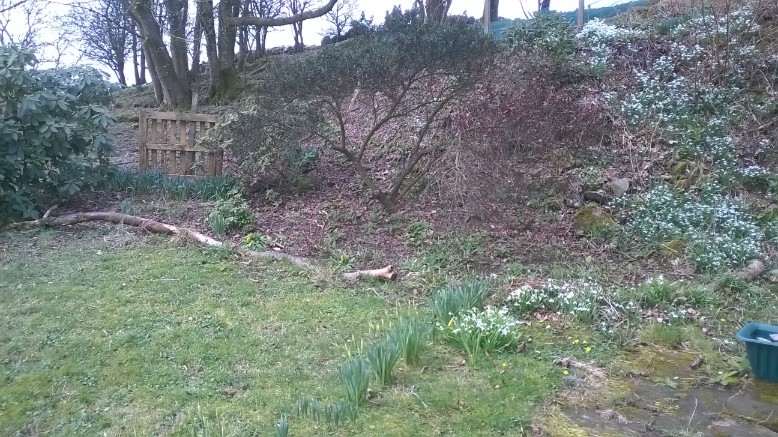 The cascade of snowdrops here on the left is one of those "isn't nature brilliant?" instances, knowing that it was likely just a clump or two originally but has reproduced and spread. The daffodils in the foreground are ever-so-close to erupting into their yellow glory but aren't there just yet. We have a perennial sweet pea planted at the foot of the snowdrop cascade – it only went in last year but we're hoping it will start to grow and thrive this year.
What with trips away and other commitments we ended up putting some of this year's tree order into a nursery bed (15 oaks) but the majority of the rest of the trees went into the gaps in the shelter belt we started lat year. The next series of photos shows the various newly planted areas – mainly covered with black plastic but the exception is under an existing rather large tree and we agreed trying to cover it and plant through would be challenging (to avoid roots, different levels of ground etc.) Arguably you could say this is our "trial" for this year – one area where the trees will have more competition from vegetation. Last year's trial showed that fencing really has helped – one "square" was left unfenced and the difference in growth is really noticeable. Thankfully the deer don't enjoy plastic tree guards but on the results of the experiment, last year's unfenced area has now been fenced.
By the time I left about 2/3 of the way through March, we did have SOME daffodils out – these were the very first and got snapped probably within a day or two of coming out…although they weren't the most obvious ones so took a bit of hunting.
If the phrase "manic mole" springs to mind with the next picture, you're not alone (I think it was my Dad who first coined it in relation to this month's digging exploits). The posts on the corner are to give us an indication of where a future polytunnel might go, but this year the far half of this area is going to be our squash bed. Dig hole & fill with muck was the name of the game – then we used the remaining black plastic from the tree "squares" to cover up the area. The whole job was made significantly easier by this area having been one of the patches I mowed regularly last year but Chris continues to prove that the expert wielding of a mattock does wonders on larger tufts of grass that, to date, have eluded the mower.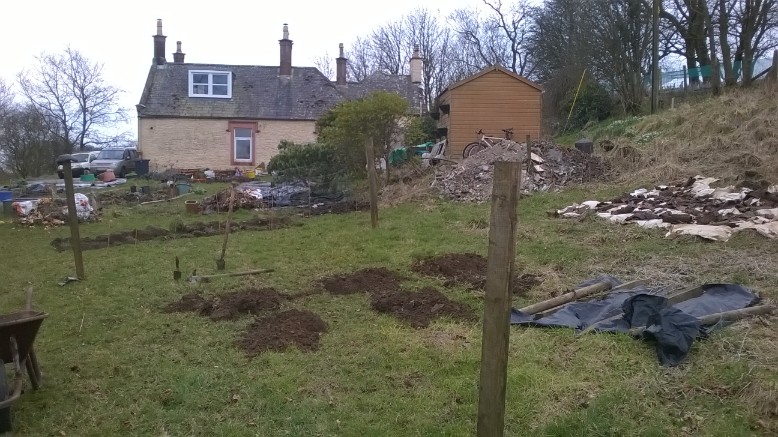 I forget exactly when they went in, but the foreground are the two rows of raspberry canes (two varieties) that Chris got planted, and the background is another fenced-in triangle containing three fruit trees. Originally we had a single "triangle" (down where the trampoline is) but these days we have multiple triangles so have to get specific about which is which. Likewise with new fruit trees planted in at least 3 locations, "I wonder how the apple trees are doing" doesn't quite cut it in terms of specificity.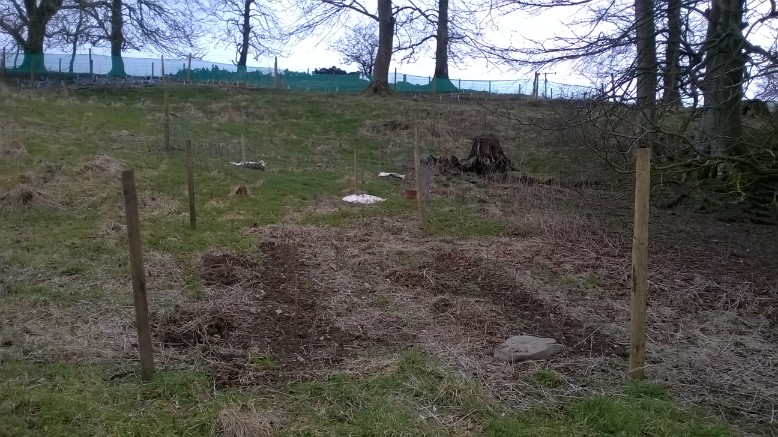 Whether it was the cold, or getting a bit older, or more accepting of me, or a combination of all (or none) of the above, Jason the cat has taken to crawling under the duvet occasionally. Most often in the middle of the night where he clearly communicates it's imperative that we hold said duvet up for him to crawl into the warm cave – thereby letting in a cold draught. What a thoughtful cat. But very much loved.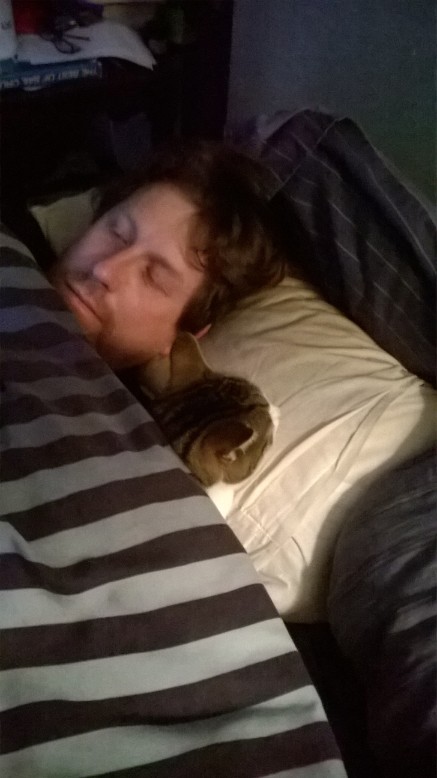 And a final highlight of March was stopping off at Tebay services and having their Red Dragon Pie. It seems although this was an exotic dish to me, it's been a staple in friends' diets but for it to be available, vegan, with a huge pile of beautifully fresh salad at a motorway services was a complete delight. I didn't get to see the below-mentioned ducks, but it's nice to know they're there. Somewhere.