I confess, this is another "posted significantly later than the date, but set to the date for the purposes of chronology" posts. It's been over a quarter of a year since I caught up on these photo journals but the joy of digital time stamps is my friend – which is ace. So on we go…
This is going to be brief. Most of April was spent in places other than Katrine Bank so I'm afraid the sum total of photos for this month is…two!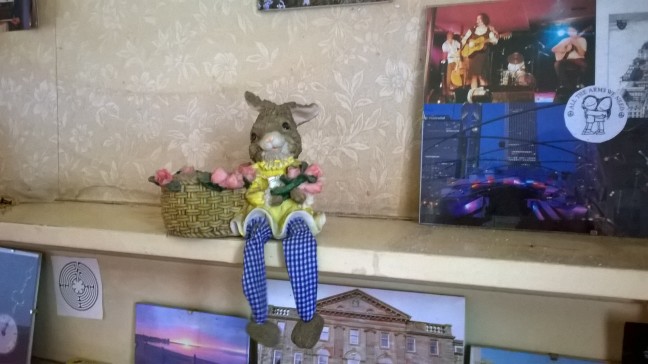 Why a photo of a fairly odd-looking ornament? (Bunnies don't have legs that long at the best of times, and even more rarely do they clothe them in blue gingham hose…) Well, this bunny is no longer with us – it was a relic of the former resident which I couldn't quite bring myself to say goodbye to. Until April (just over 2 years since we moved in). Bunny never acquired a name but was a part of my office for the past 2 years and has now gone to warrens-new. Farewell, little Bunny, may your basket continue to carry roses for many moons yet…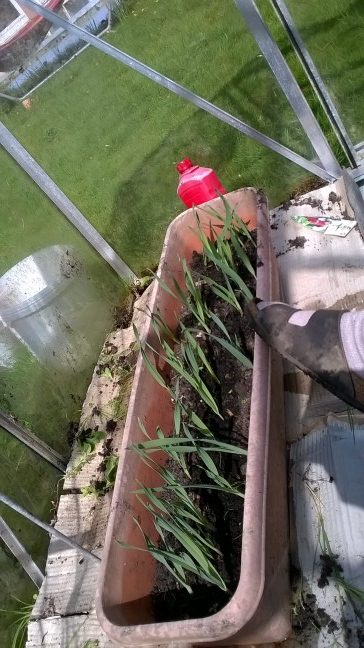 Being out of the country for most of the month I didn't get many seedlings going, but one thing that did merrily keep growing were the millions of Babington's Leek bulbils I planted. Having not had a huge amount of success with some I purchased a couple of years back, I planted two full troughs full at fairly tight spacing. And about 95% germinated and grew! Therein started the Babington's Leek Distribution project and there are now Babington's Leeks in gardens that had never even heard of them prior to a "Oh, do you fancy some BL?" enquiry from me…
So there you have it. April in photos (well, there are two, so it does warrant being plural. Just.) Made this post nice and quick to do, though!