After diligently keeping to a single month in each post, there's been a bit of a hiatus. Despite best intentions, life had other plans for my attention towards the end of last year and photos were top of the list. Likewise, not a huge amount of work happened on the house or the land. Other than plants doing their wonderful thing of continuing to grow, of course. I don't seem to have any photos of the house or land from November and December, so I did a bit of a catch up in January.
November
The end of October and into November saw our final WWOOFers of the year – more moving ash up from the Old Veg Garden and painting the hallway for them! Along with some other bits and pieces – they were two women from Germany and definitely enjoyed the fire in the library and hanging out with Jason.
December
A very quiet month, not least because we were away for a chunk towards the end visiting family for Christmas. We kept warm, we kept healthy, and nature kept doing its thing!
January
Mainly capturing how the land is, but with a couple of bits "happening" in amongst… Like Babington's leek bulbils sprouting, despite being fairly neglected! Please excuse the photos in the wrong orientation – the blog editing software isn't playing ball tonight!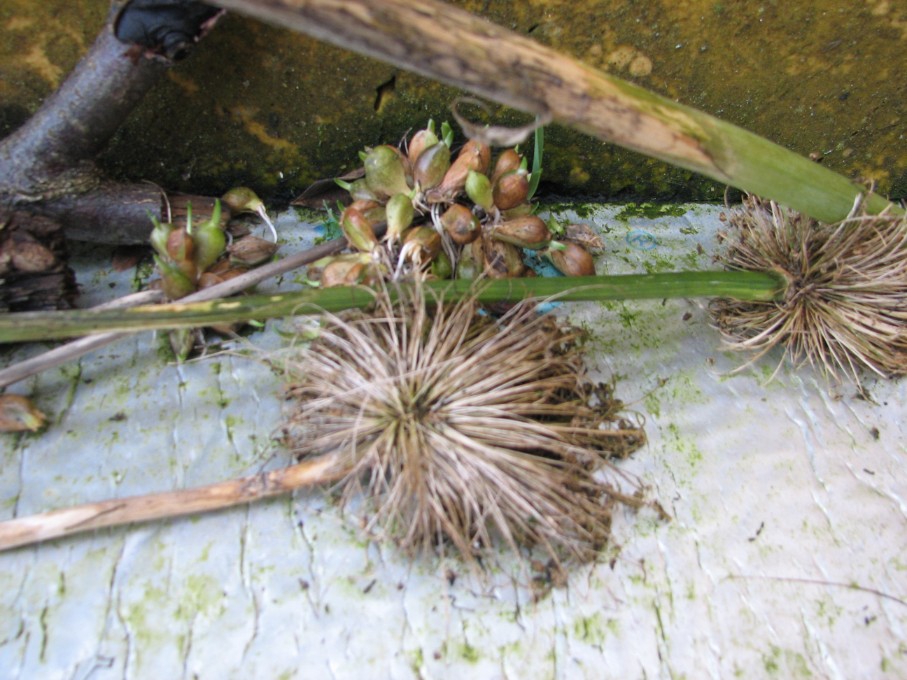 Slowly, slowly, catchy Monkey. The woodwork in the hallway is being washed, undercoated and then glossed. The change from a dull yellowy cream to white is really noticeable.
This bird feeder is just outside my office window and although the food doesn't last long, it's lovely to see the birds so close.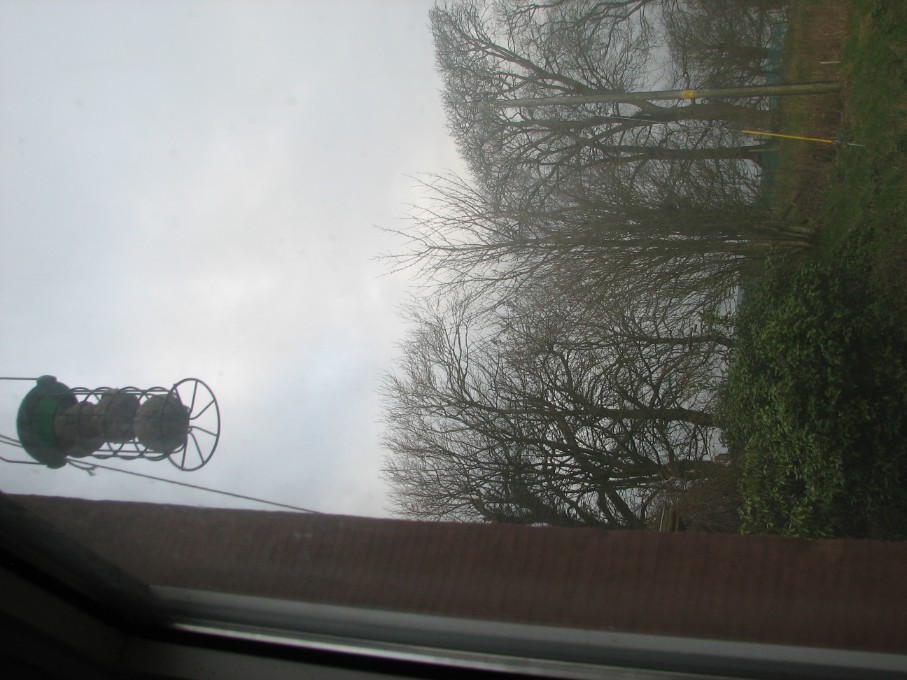 Back in October this woodshed was but a piece of tin lying on the ground – now it's built, secured and ready for more wood! This is the last of the wood we first harvested from the row of ash by the Old Vegetable Garden back in 2016 so is pretty ready to burn if we need it, Exactly what we'll fill the rest of this shed with remains to be seen.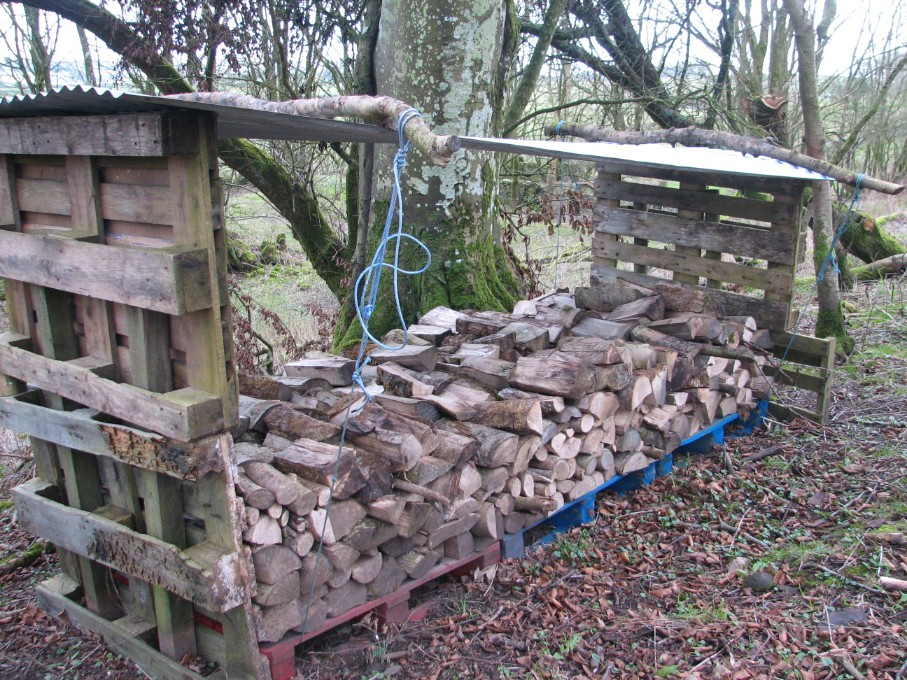 Interestingly the oak saplings we bought last year and put in a nursery bed have fared fairly well against the deer.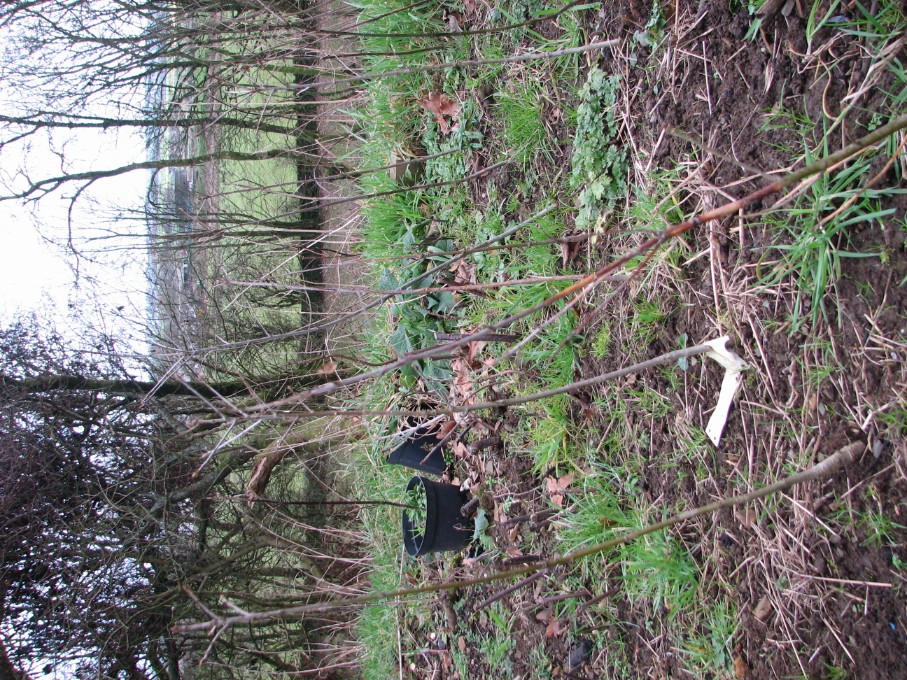 Sadly our little yew trees seemed much tastier to said deer and have all had a rather severe pruning.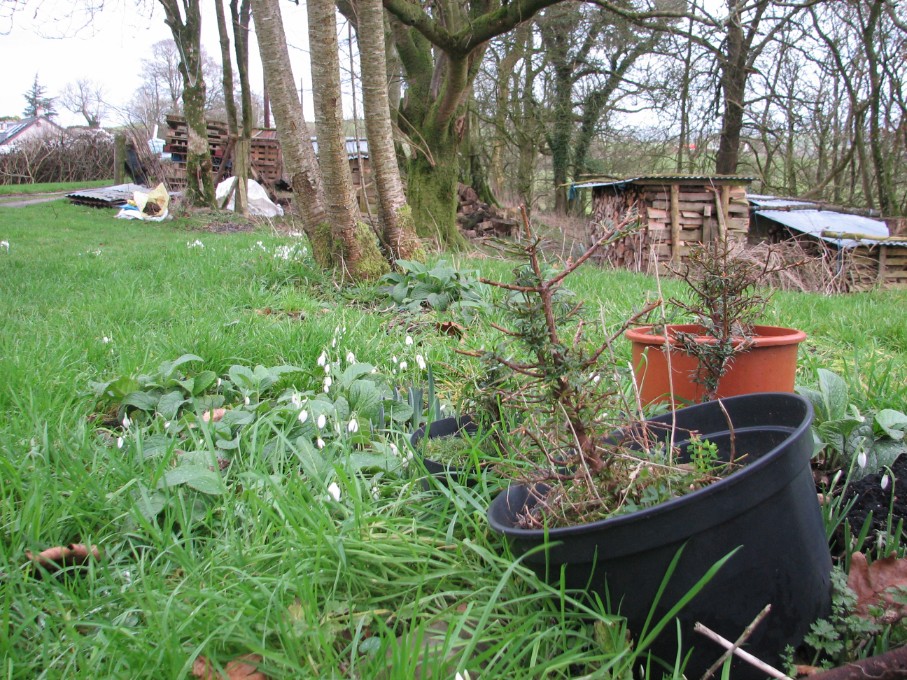 The deer have been incredibly bold, coming right into the veg garden, munching through several heads of cabbage, decimating the kale plants and munching all of Chris' prize parsley. They haven't been interested in the leeks (thankfully!) and the netting seems to be doing the job on keeping them off the kale plants. We may get a bit of kale as Spring kicks in, but deer-fortification really does seem to be creeping up the agenda.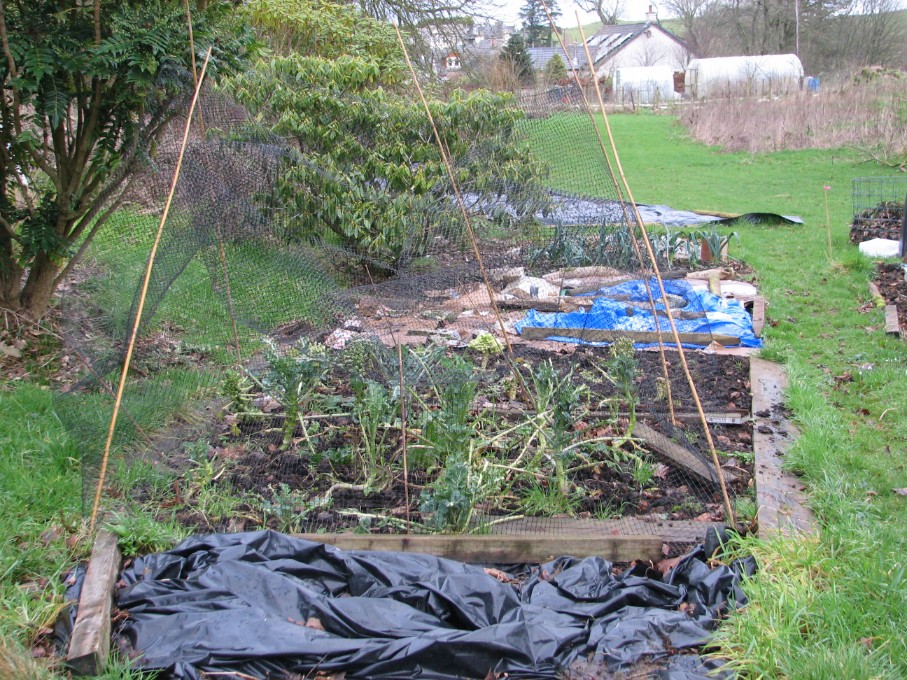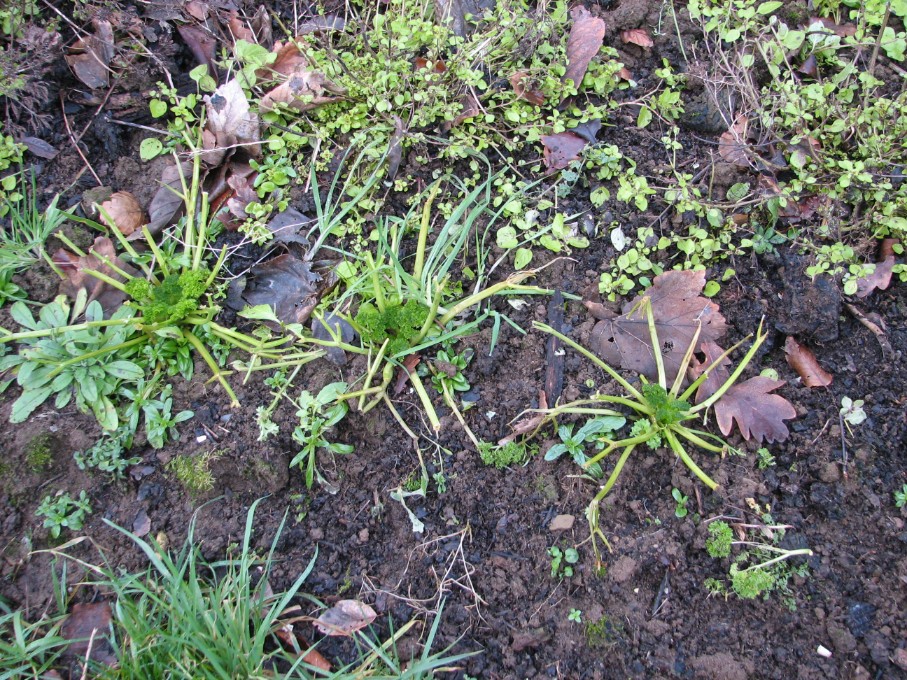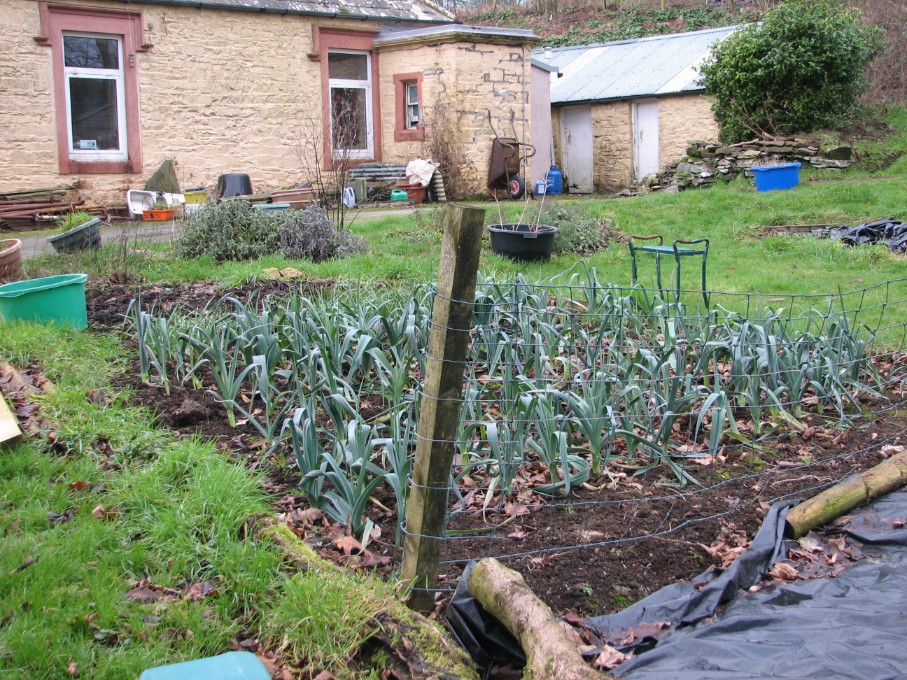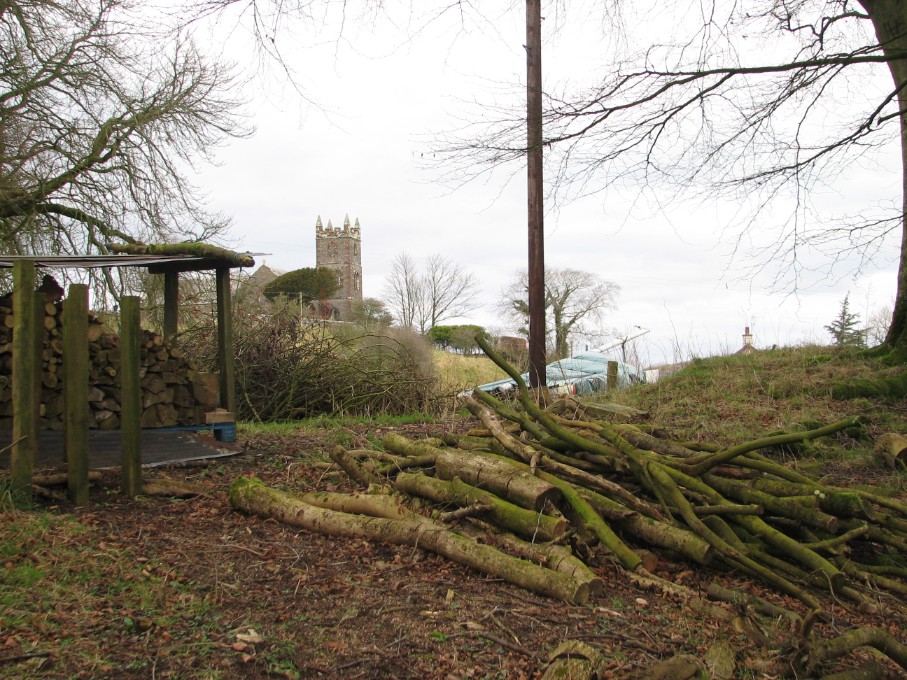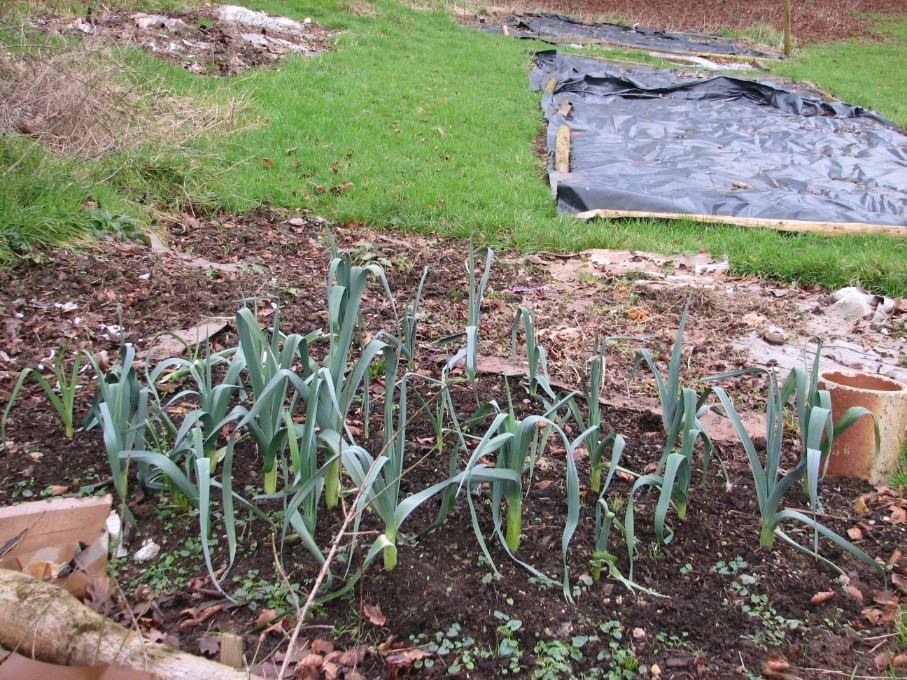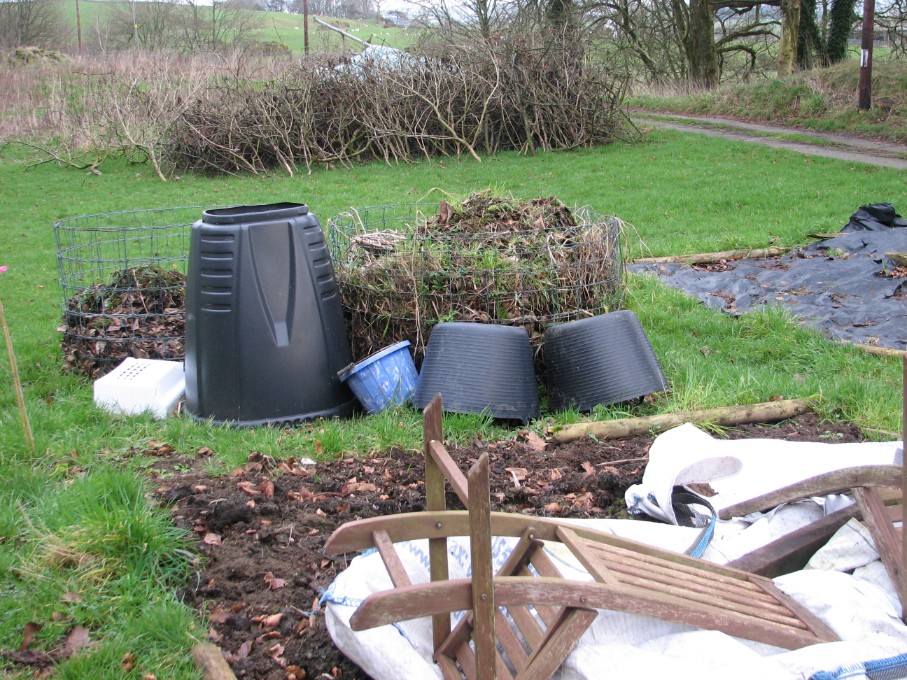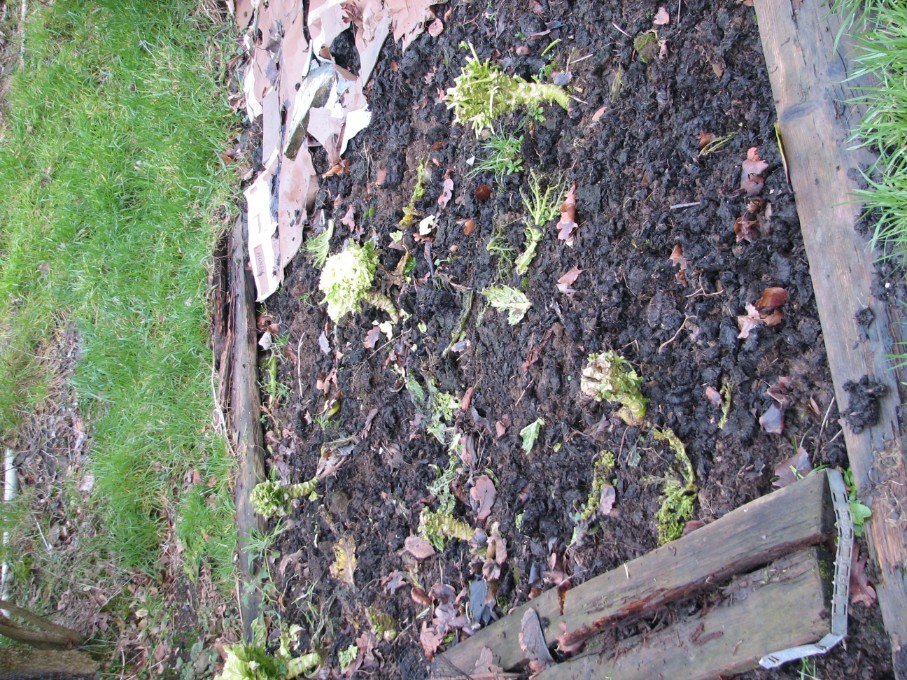 The Autumn raspberry cane row, all chopped down for the winter and awaiting new growth next year.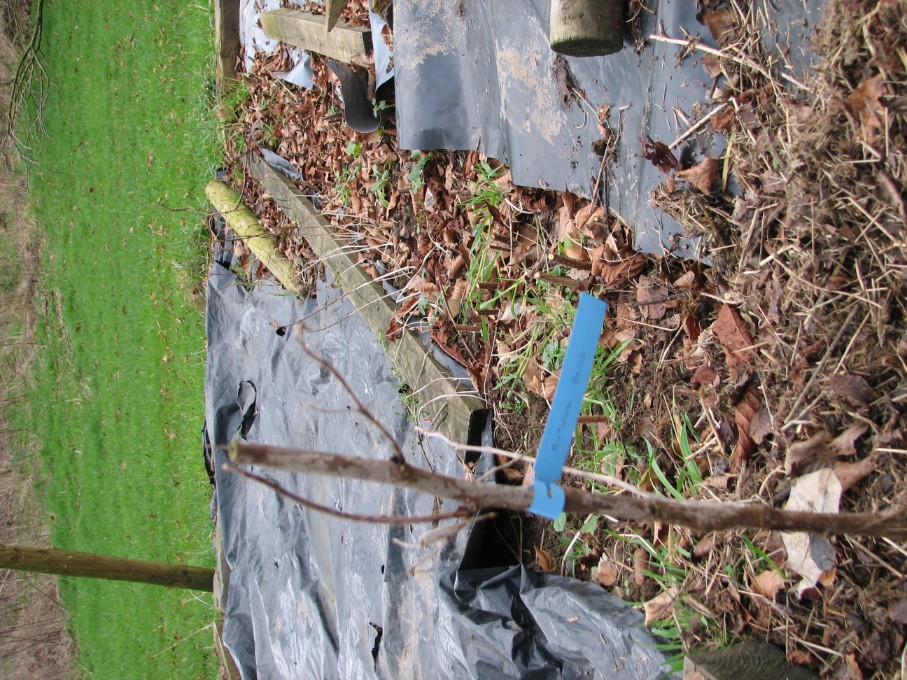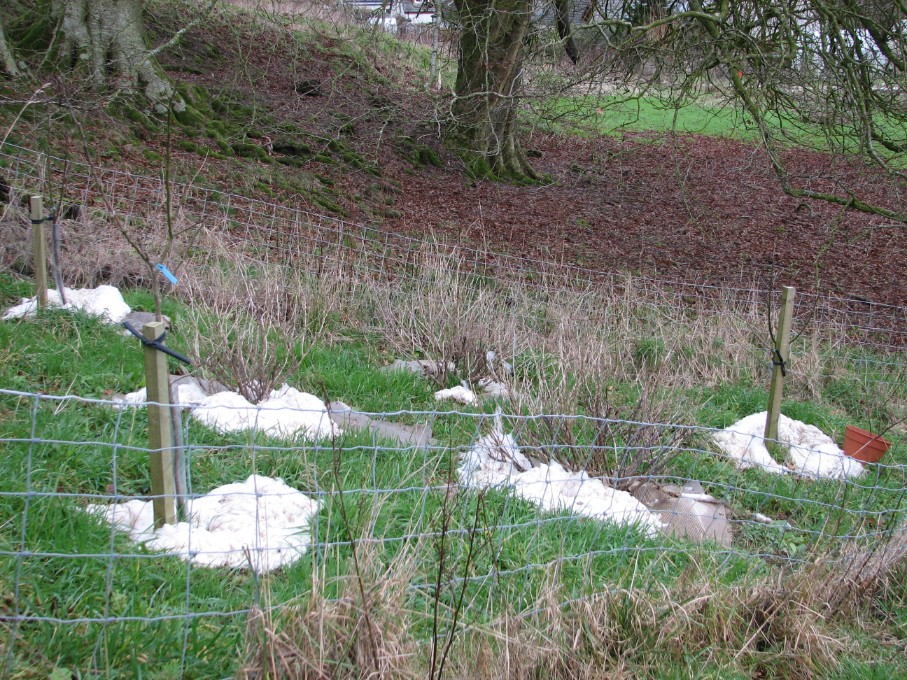 The blueberry bushes have had a deer-pruning as well.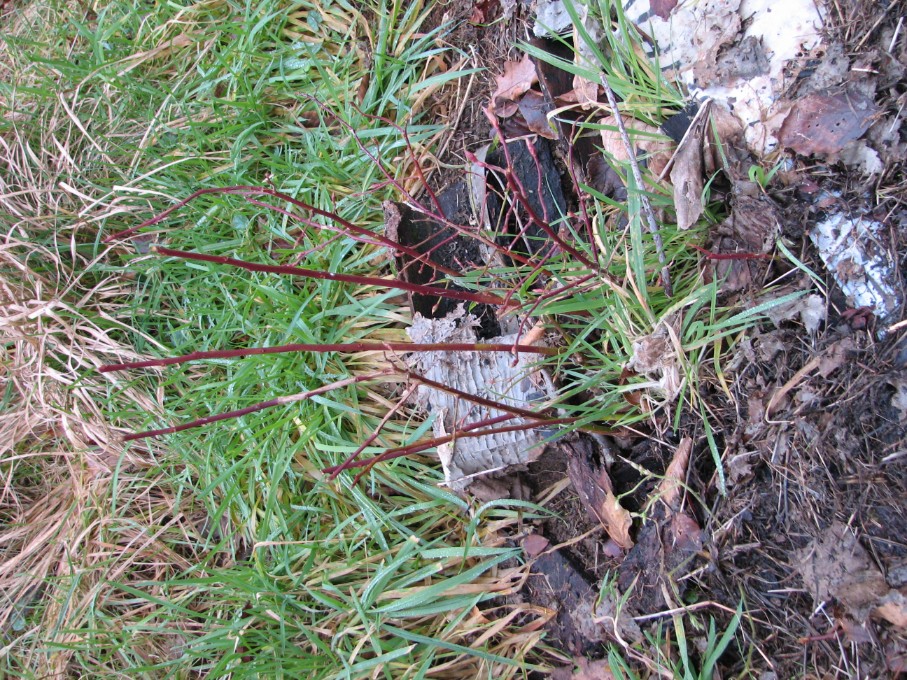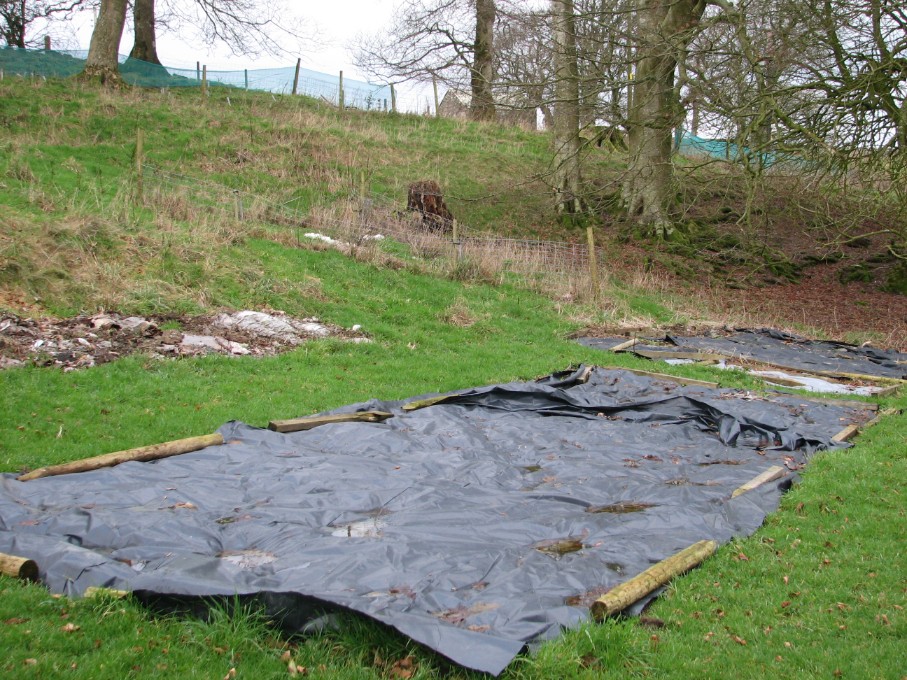 Not just showing off the lovely brash pile but you may see, very faintly, some trampled lines in the grass. I've put in a few bulbs to mark out a labyrinth: it'll be interesting to see how walkable it is this year. We discussed optimal bulbs to create it, but having had the area marked out with bamboo and string for a few weeks I decided to crack on and put in the bulbs we had (daffodils and snowdrops). I suspect it may be 2020 before the bulbs really do much, but I remain hopeful for this year!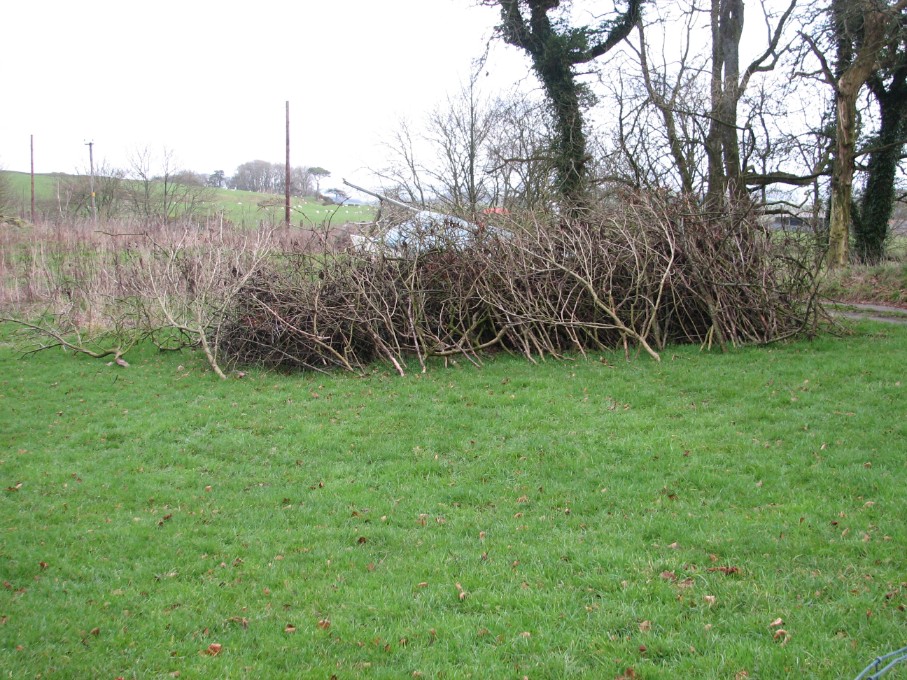 Our neighbours have a small flock of sheep and gave us a tonne-sack of fleece to use as a mulch. You'll notice the "ours and theirs" mulching in some of the later photos. I find it sad that the fleece has such low value that it's better for them to use it as a mulch than as wool, but such is the way. We did offer the pick of our fleece to some friends who spin and weave, but even they are inundated. The first photo I'm particularly excited by: this gooseberry bush has put down roots from some of its stems (effectively tip-layering itself) so with any luck we'll have even more gooseberry bushes to add to the collection.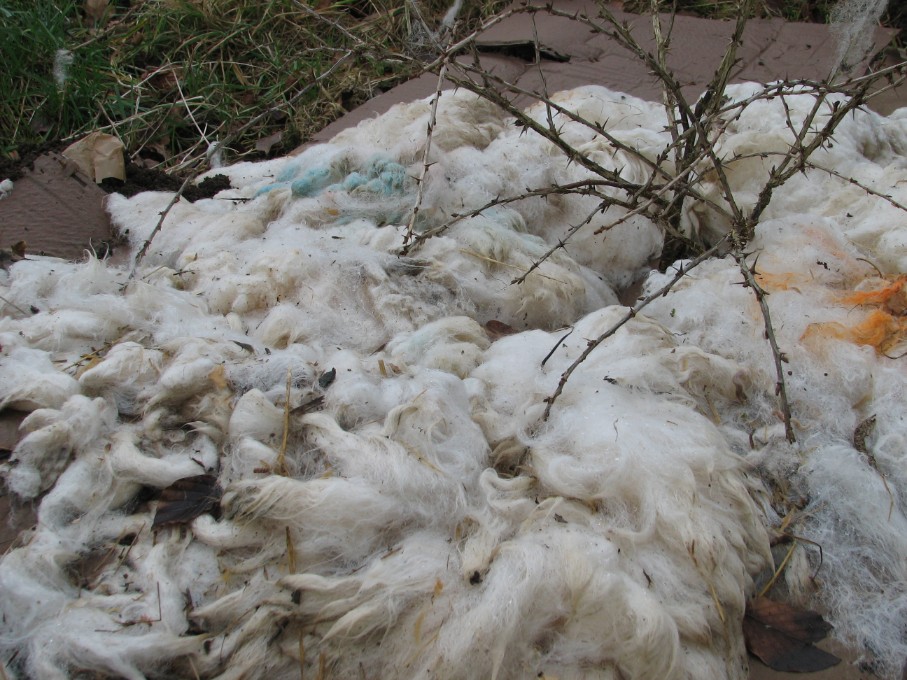 Remember the special catamaran strimmed-area? Here's the boat itself, happily in occupancy: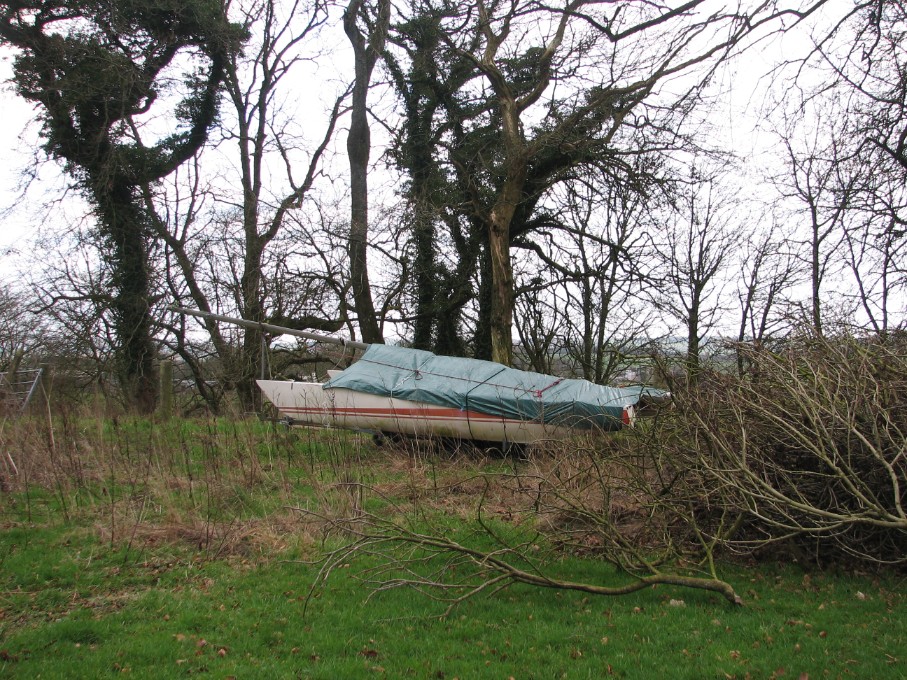 The shelter belt we planted up in early 2017 is doing really well – bits that aren't fenced are struggling (especially with deer predation) but those areas we plastic-mulched and fenced are really very happy.