learing So, three years in. Wow. It was right at the very end of March 2016 that we completed on our purchase of Katrine Bank and now, three years in, there's still lots going on and evolving. The very first entry on this series is worth a look through – you can access it here.
The work on insulating and redecorating the attic room was one of the first jobs we started but has ended up taking a lot longer than we thought – slow and steady will, we trust, win the race! We're getting good at fitting bits of insulation between beams and using expandable foam to keep fill in the holes. Slowly slowly, makey warmey…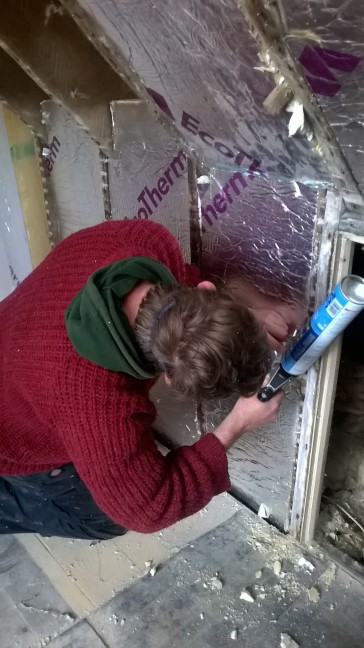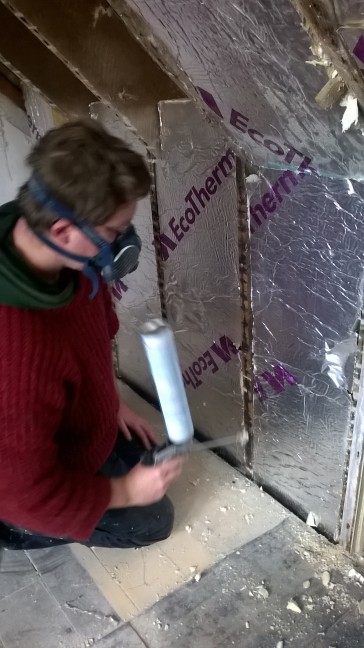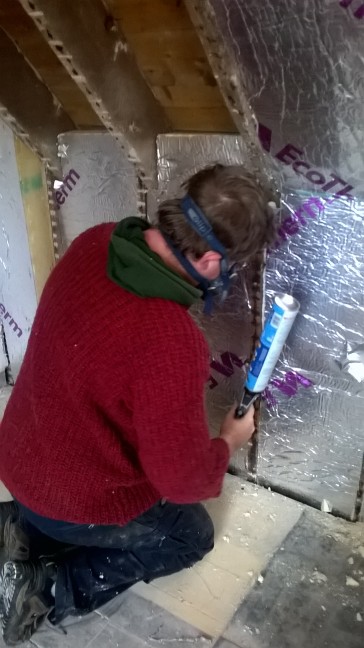 Chris will also tell you that he proposed taking the wall-paper off the room which is currently Solli's AGES ago. I finally came round to the idea this month and although there's no photographic evidence of the after-it-all-came-off state, I can assure you: this wallpaper is no more. That said, it was pretty amazing wallpaper – and we think it may have been handpainted (or at least hand finished).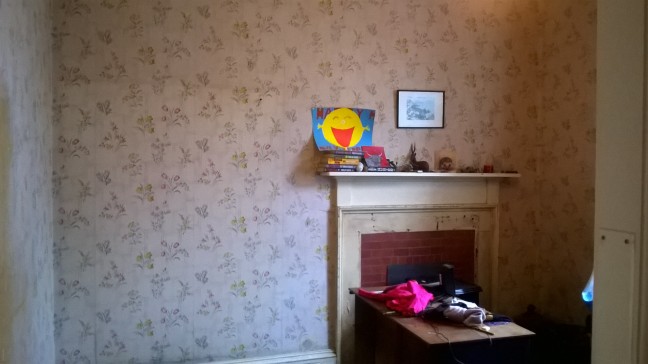 My daffodil labyrinth continues to develop – I'd originally put a few clumps here and there around the pathways and it simply wasn't enough. So, I'm now bolstering the outline with more daffodils, mainly ones I'm extracting from places-I'd-rather-they-weren't in the rest of the garden (like in what used to be a fenceline but is now the middle of a veg bed). It's not the best time of year to be moving daffodil bulbs, of course – but knowing how robust they are I reckon they'll survive.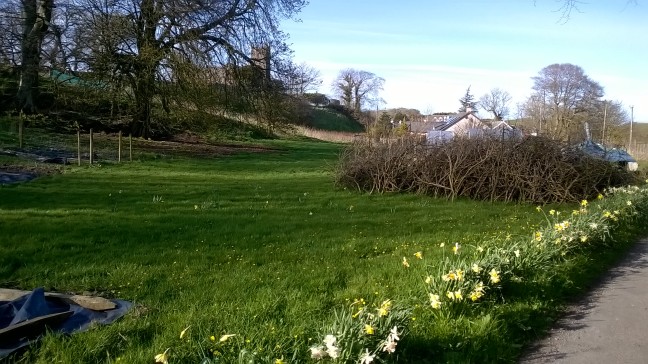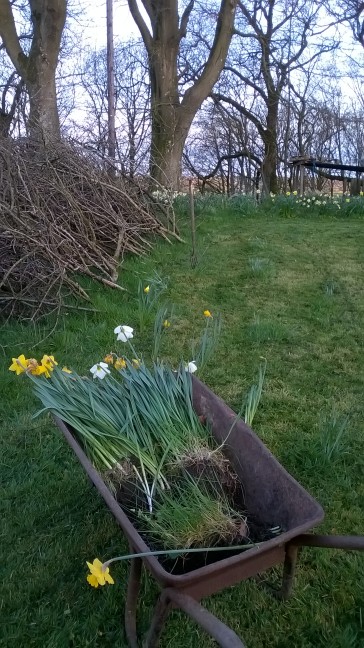 March also saw the first mow of The Expanse (formerly known as "the Field" and "the bit between the veg garden and the fruit garden"). I do enjoy naming our different areas – the challenge is a) remembering what I've called them and b) getting the rest of the team on board with the names so they actually know what I'm talking about.
The action happened in February, but the photo was from March: Jason's "pawiwork" following Harriet & Emilie's painting of the stairs up to our room.
Woodshed land is looking lovely in the Spring sunshine, as ever, and out wild garlic clumps are getting healthier by the year. We're not tending to harvest them at the moment (although I did get an epic harvest from one of the local verges which is festooned with them – which has now all been turned into very pokey wild garlic pesto, phwoah) but we are adding to them each year. So looking forward to having our own epic-crop on site!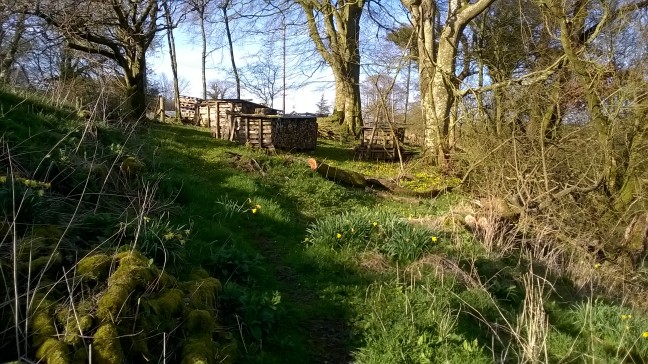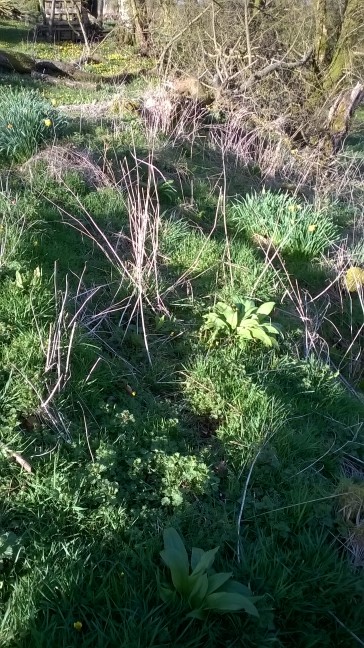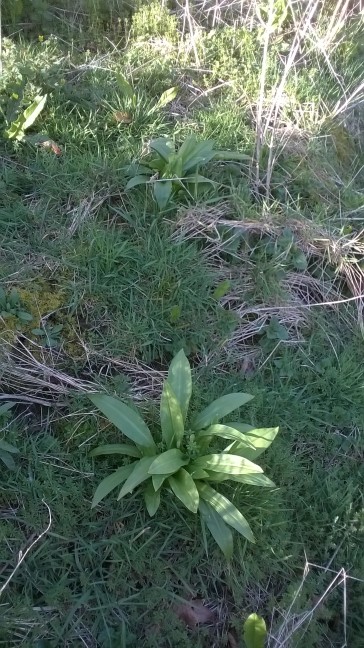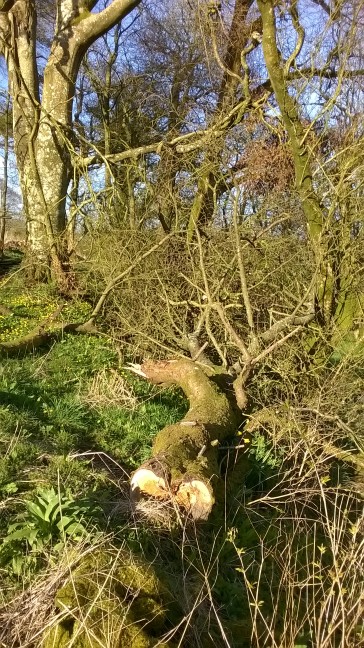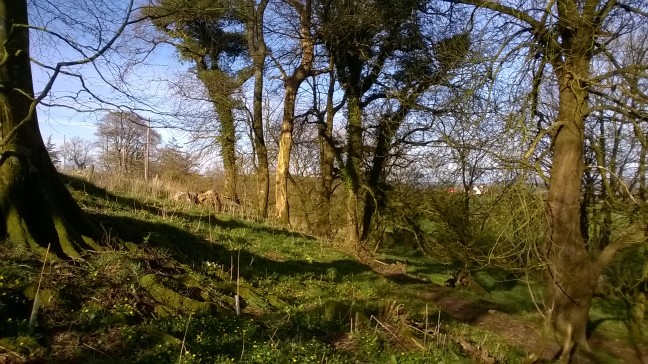 The deer have had a go at pretty much everything this winter and so we're trying out various new deer deterrents. We're not expecting to keep them out of our land altogether, but doing what we can to discourage them…and brash against the fence seems to be working a treat so far! You'll also spot a bunch of buddleia "wands" – these were this year's trimmings from our two buddleia and they all got shoved in the ground in the hope some of them might take. We shall see. (A couple I put in last year took and they were treated significantly less well than these, which went straight into water after cutting, had about a week of soaking so got fully hydrated, and had the soil loosened with a fork to get them deeper into the ground rather than just prodding them into the soil as is, as happened last year).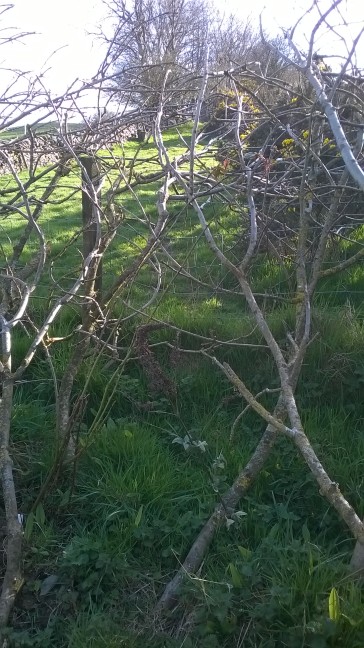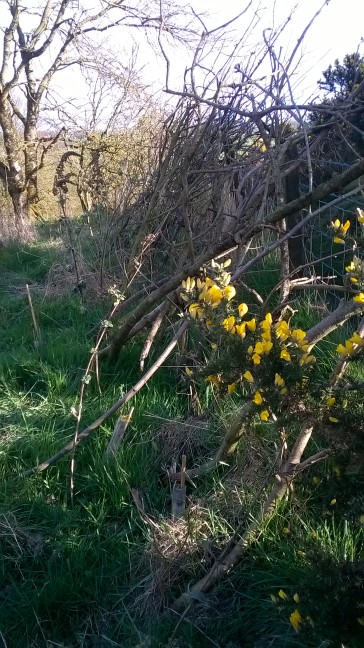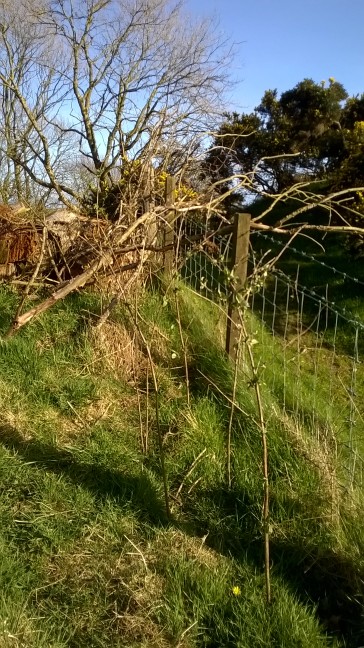 March involved a Morecambe trip and some "I love the prom" shots (as well as one of the epic rosemary bush that goes from strength to strength). This is also an opportune moment to say yes, I know there aren't really shots of me (looking at you, my wonderful parents) so I've started introducing some silhouettes of me. One day there might even be a photo with my face in (and if you're curious as to what I look like generally, shots of me in a very different habitat – when I'm working as a Massage therapist – can be found at gallowaymassage.com.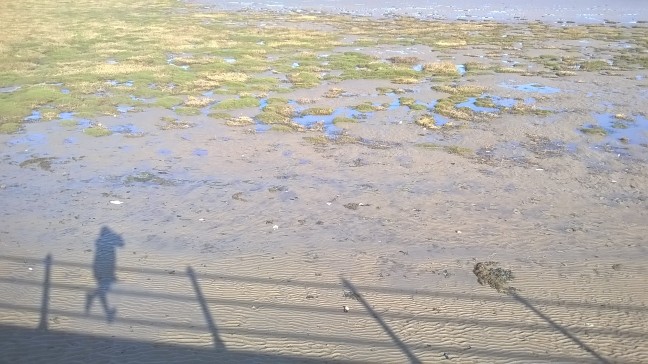 I'm particularly pleased at the moment with the Old Vegetable Garden. I love the feeling of the OVG and Chris and I have had many conversations about what we might use it for. In the mean time I've been using the ancient Gardiner family tradition of "mow it to submission" and it's working surprisingly well. Shots of the OVG after it's first trim of the season coming in April's photos!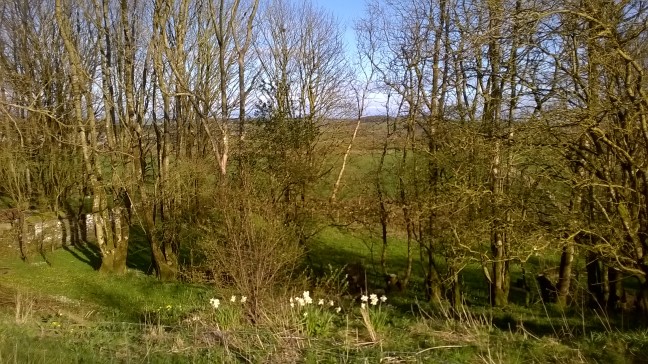 And so to the "damson triangle" – the photos don't really show it, but the damson in the middle is really happy and the currants around it are doing OK too.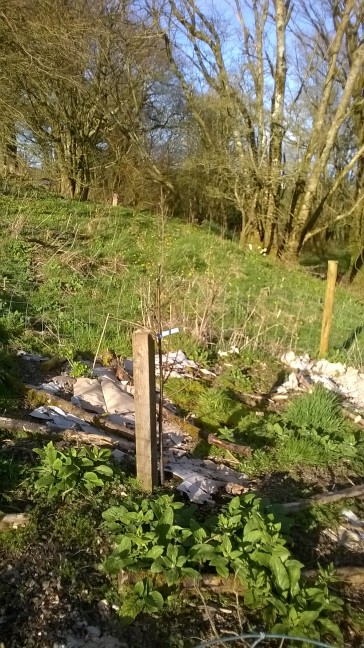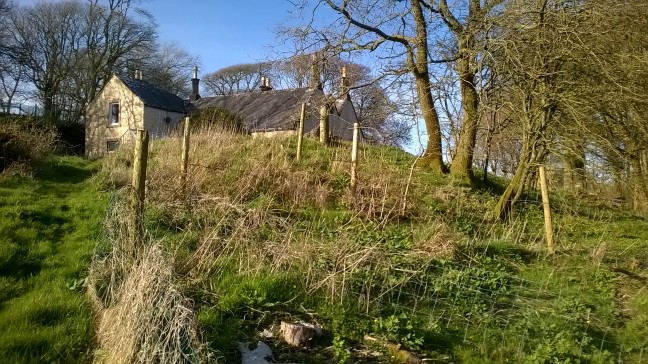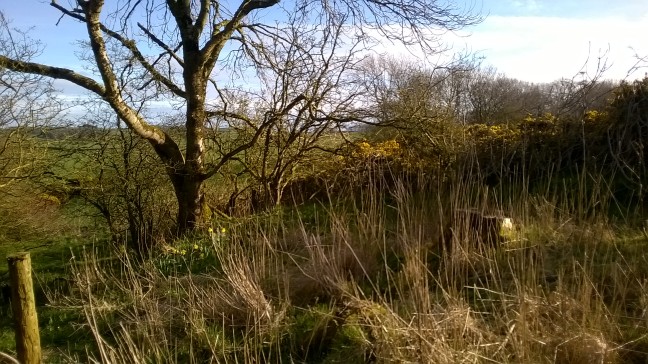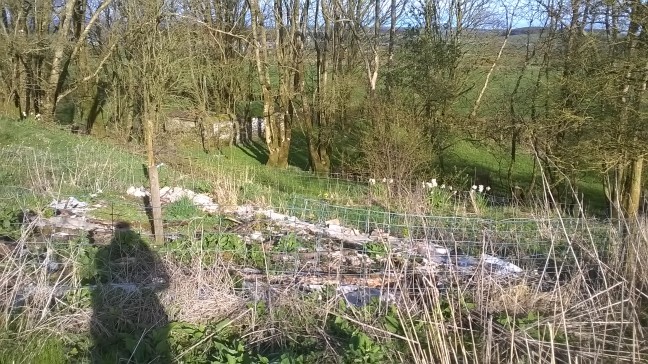 I was really taken with how some of the spruce that had been felled and left to rot in situ (clearing that tangle of rotten and not-rotten wood, all interwoven with copious brambles, was one of the first things we did back in 2016) and there are also some shots of the mini-shelter belt we've put in, in the hope that in years to come it will give some shelter to the damson triangle.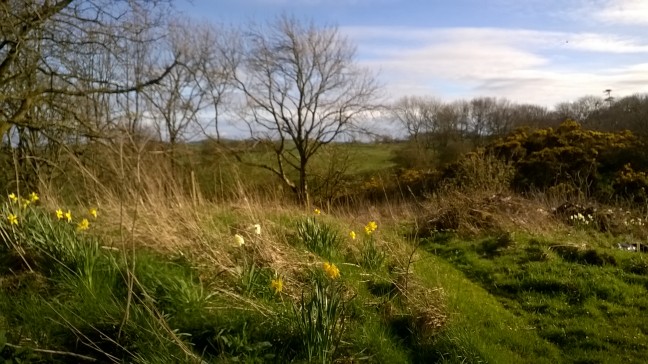 As ever the daffodils are plentiful and glorious – and even more glorious when you consider the second and third photos below are of an area that was totally swamped by brambles and a very overgrown buddleia when we first arrived.
Seeds have been planted and I'm also having another go at rosemary cuttings – this year with rooting compound. Fingers crossed.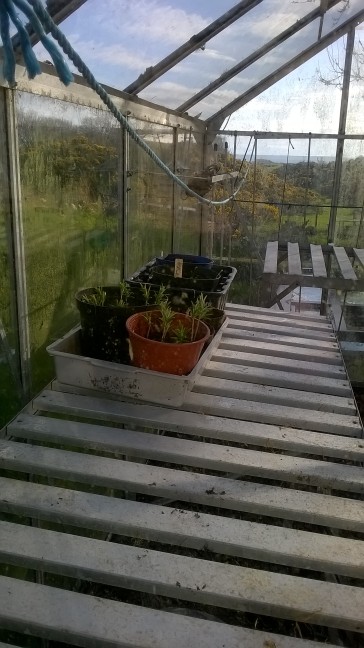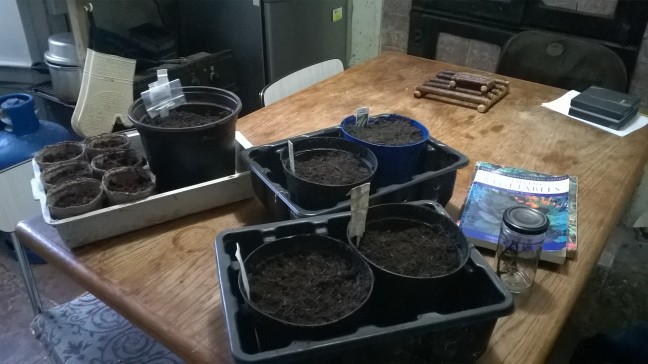 The fruit triangle up the bank from the expanse has fared particularly well (either the deer didn't find it or were sufficiently deterred by the smallness of the enclosure to bother with it) and the three large gooseberry bushes that we got from someone locally who was hoiking them out last year are very happy. I also remember getting the last bush in very early one morning, I think just as I was about to go to Morecambe (and then on to Australia) this time last year – very satisfying that my endeavours to get them into the ground paid off!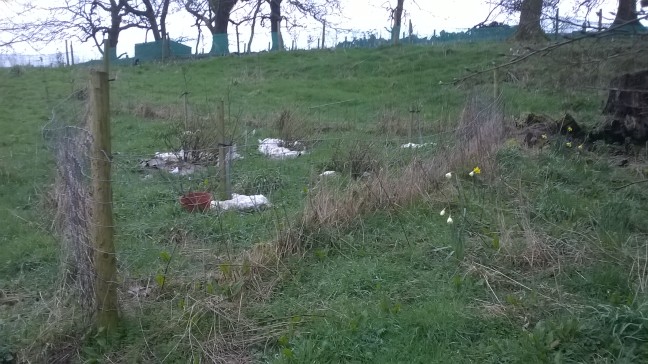 The "polytunnel patch" is being used for the potatoes mainly this year, but the far end (which wasn't cultivated last year) is now hosting some split welsh onions, garlic, onion sets and a row of very old broadbeans that may or may not turn into plants. We shall see.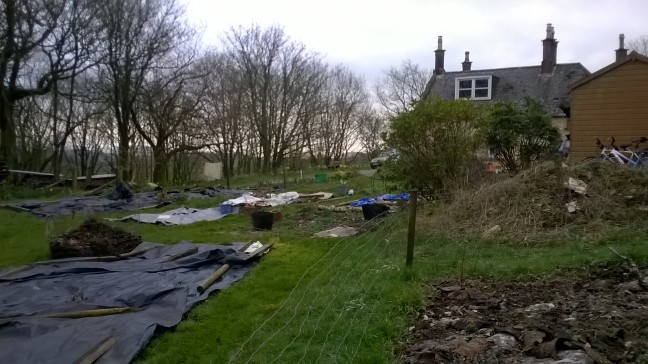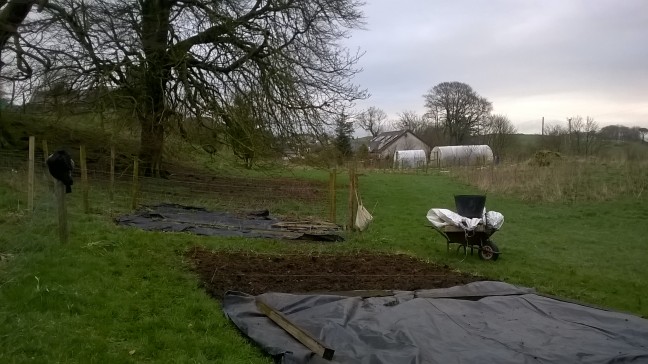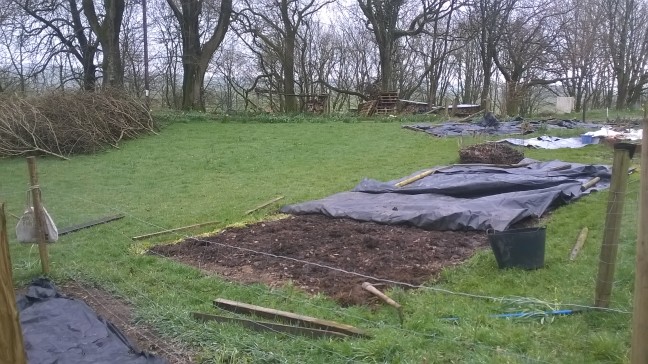 The blueberry bushes are now merrily enclosed – let's hope they don't get munched again.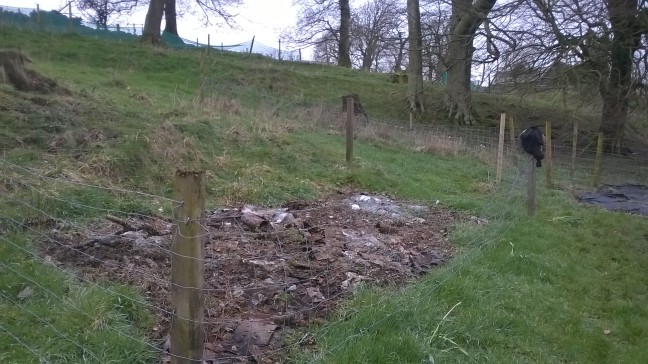 Of the two rows of raspberry canes we put in one is super happy – and the other less so. We're hoping we might be able to propagate from the (3 of 10) canes that survived in the weak row this Autumn.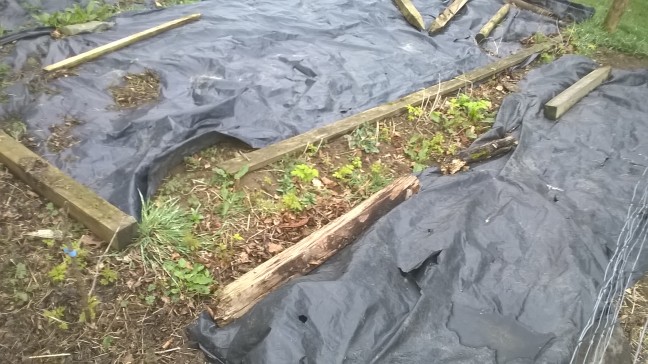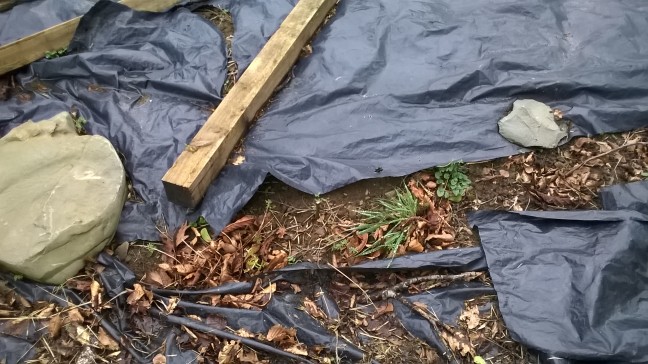 Somehow I didn't appreciate the camellia quite as much this year – perhaps because we didn't have an amazingly sunny March (in fact, the days I noticed it were all pretty gloomy). But it's still there and it's going fine.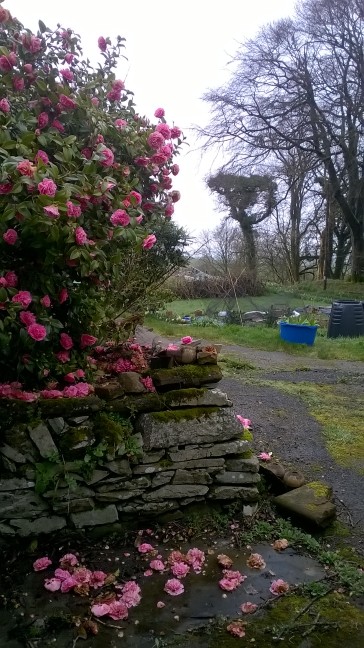 And to close: Kirkandrews' post box. On the right of the photo you'll see an old postbox, embedded in a wall, that's been painted black to indicate it's "out of service". This happened some time ago and I thought it a bit of a shame that Kirkandrews no longer had a post box. Until, that is, I was cycling past in March and spotted that they had, indeed, replaced the old (probably functionally broken) postbox with a shiny new red free-standing one. I liked the juxtaposition of the two (and my trusty steed, of course).