Well, today (real today as opposed to the date of this post which I always set to the last day of the month of the photos, so, May 11th..hmm, started on the 11th, it's now the 25th but the leeks definitely went on the 11th…) I bid farewell to the last of the leeks. They've served us well and we managed to catch most of them before they went to flower and all fibrousy inside. They were used in a lunch-and-dinner-back-to-back-in-the-middle-of-the-afternoon extravaganza (along with pasta, purple sprouting broccoli, some brussel sprout shoots, sun dried tomatoes, TVP with soy sauce and pesto of both the from-the-shop-vegan, and wild-garlic varieties) and a mighty last-leek-meal they made too. But this isn't a blog about FOOD, it's a blog of photos about an amazing place I get to call home. So on we go.
(And before we start: I don't entirely know why, but the dates on my photos seem to get horribly mashed so there's no reliable way to do them chronologically. Essentially: if there are daffodil flowers in the photo it's likely to be early April – if not, later in the month).
Let's start with…growingses!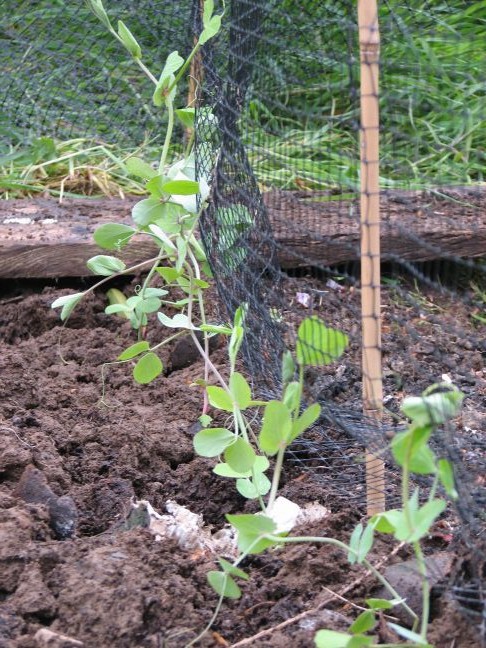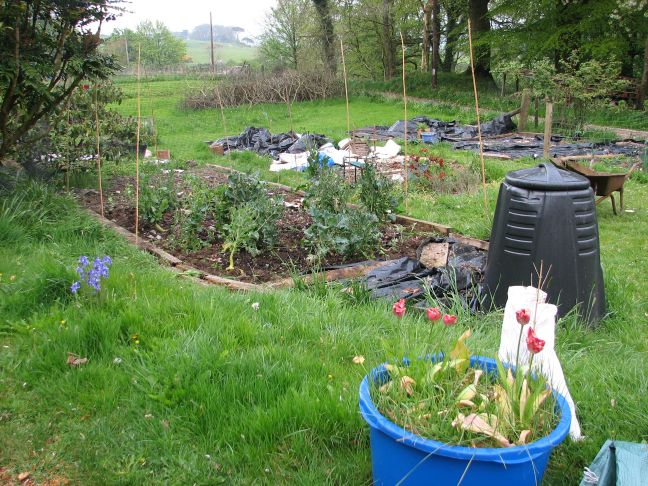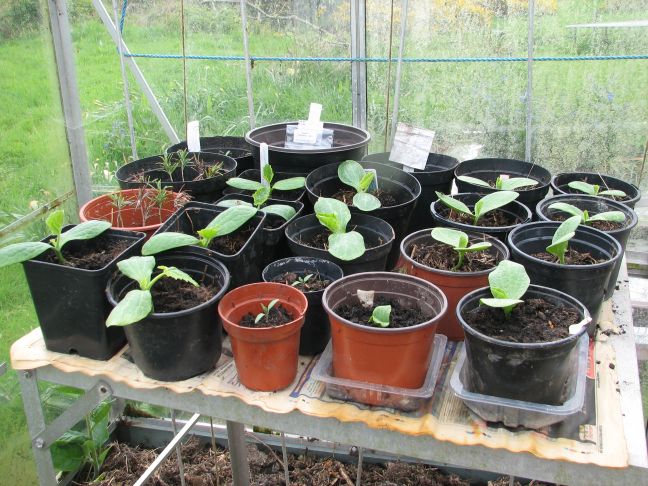 Rosemary cuttings, squash and courgettes (and no, I can't tell the difference at this stage of growing!), plus a couple of tomato plants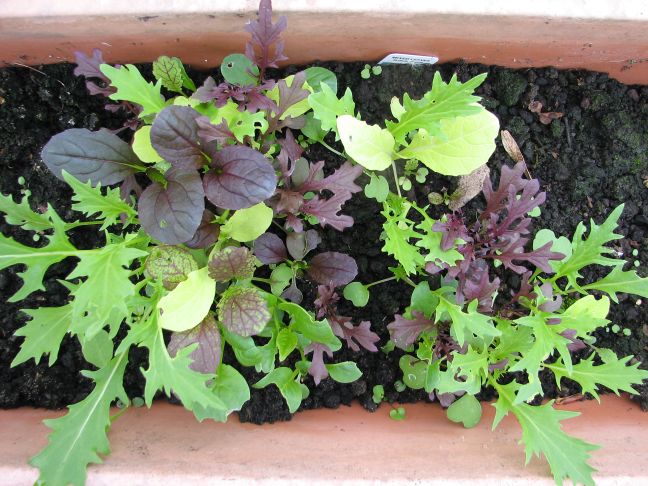 I'm not a huge salad eater – but if it comes from our own garden, I'm much more inclined!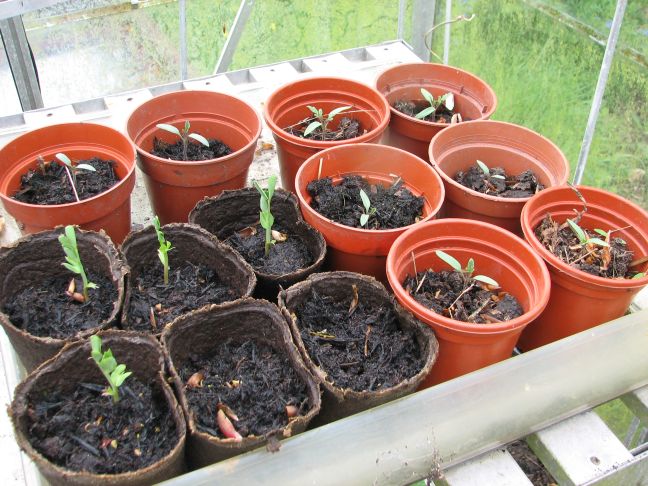 More peas & tomatoes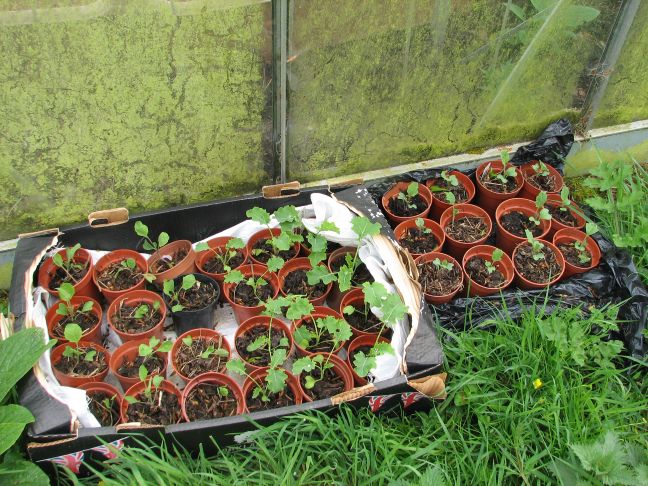 This year's brassicas – it was getting a bit warm for them in the greenhouse so they're now just outside, idea being that I'll remember to water them. Kale, brussel sprouts and purple sprouting broccoli
This acer "came with the house" but was very pot bound. The pot had to get destroyed to extract the tree, but it's now very happy. The bed next to it was one of our original nursery beds but is gradually going to be returned to grass, with some interesting "mini beds" left in (including the sedum, the leaves of which are GREAT for salad).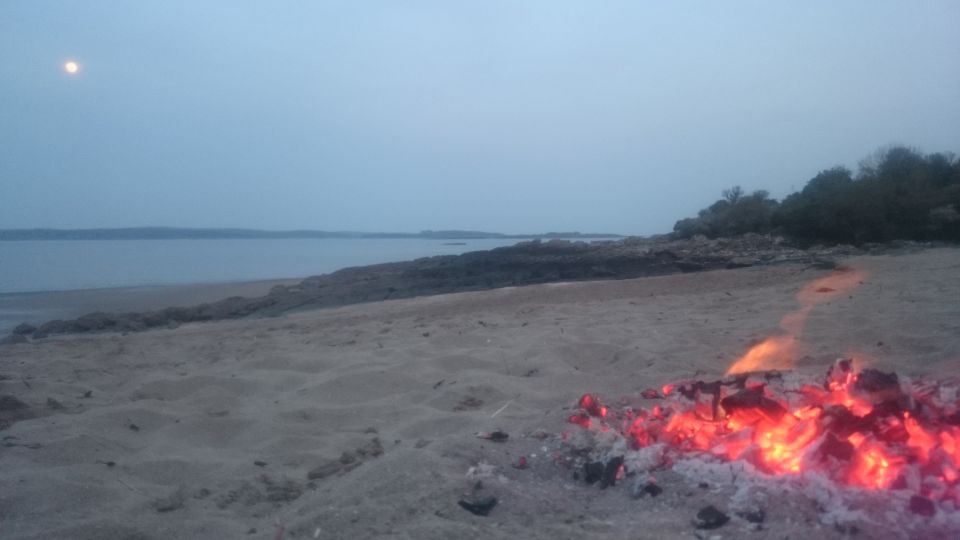 Just before Easter a friend had a birthday party on the beach at Mossyard. I failed to take any pictures while the party was in full flow (I was having far too much fun chatting to people) but I did capture this shot as I was enjoying the last of our little beach bonfire and the moon was rising.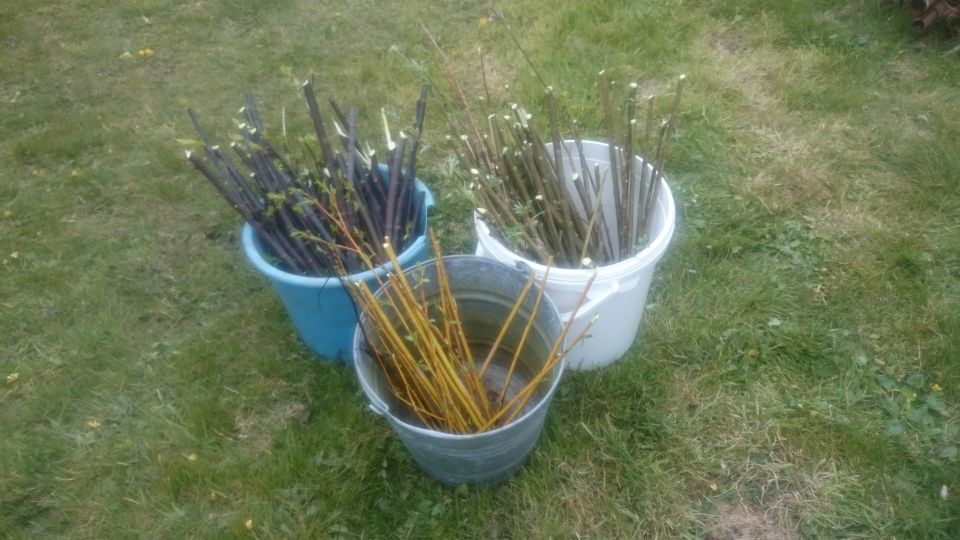 A friend gave us some willow wands ("waste" from her side was a definite "resource" for us) and here they are chopped up into approx foot long segments, ready to be planted up.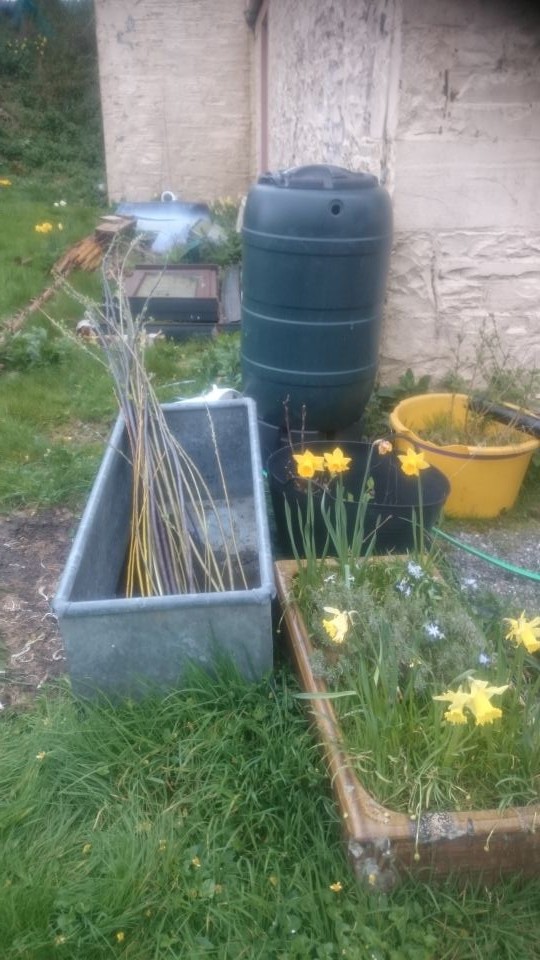 In the trough next to our water butt, before I'd managed to chop them up.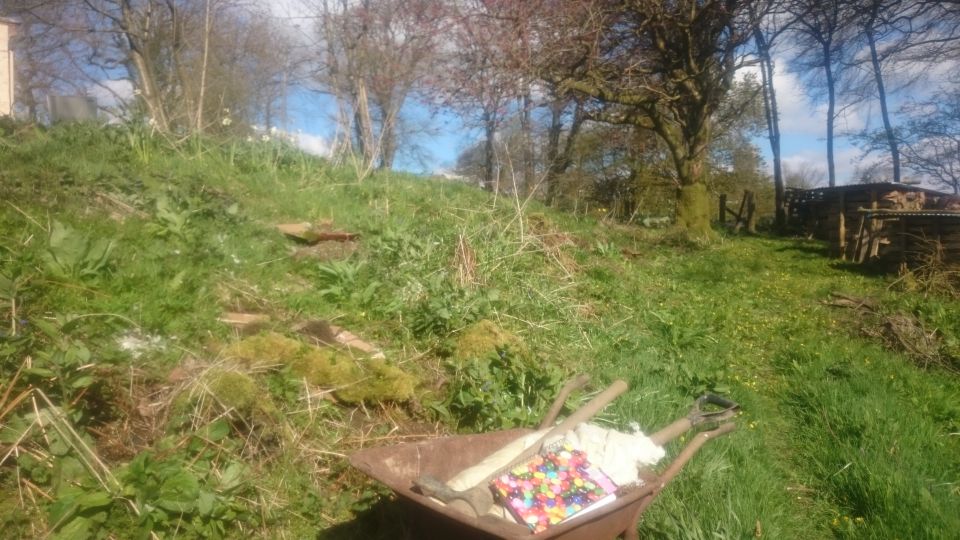 The easiest wheel-barrow track up from the OVG (via WSL) now has a row of currants planted on the bank on the left hand side of this photo. The brightly-coloured book in the barrow is our planting journal.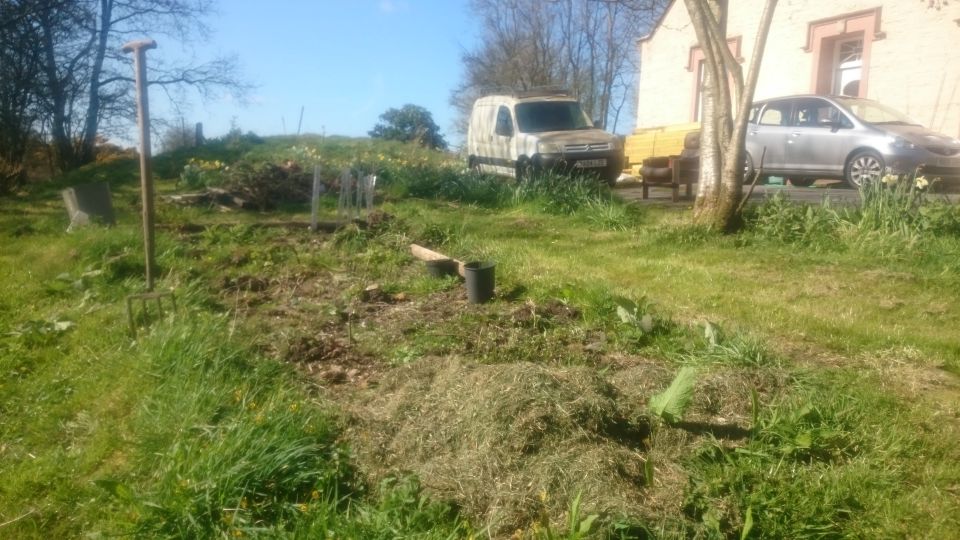 Previously this whole bed was given over as our tree nursery. It was always a pretty poor bed, soil-wise, so we're keeping the "best" end (which we'd given a load of compost as we did leeks in it one year) as the nursery and the rest will be allowed to grass over. With actually growing grass, as well as some clippings…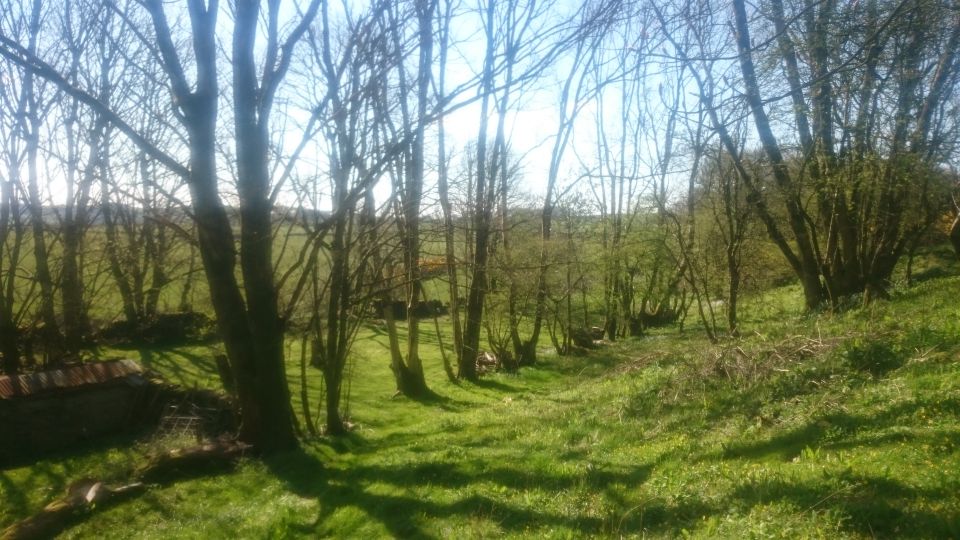 The OVG ("Old Vegetable Garden") remains one of my favourite spots. We'd originally thought we'd have pollarded this entire row of ash by now (fat stumps, tall poles coming up) but turns out we're much more wood-rich than we'd anticipated. Makes for a lovely walk through on a sunny day.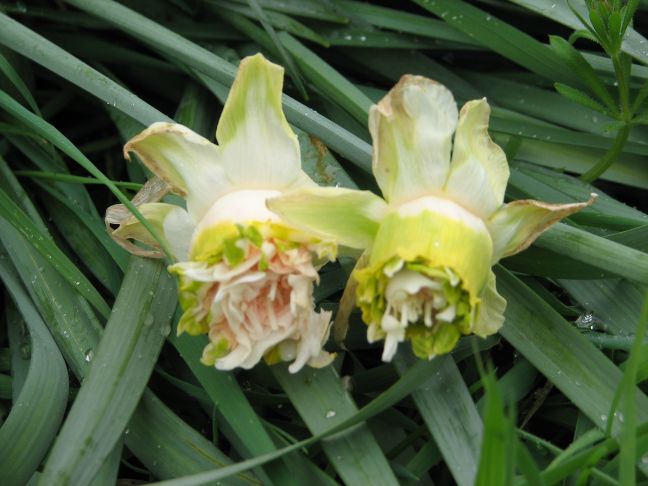 Not quite sure what had a go at these two daffs, but something about them captured my attention. This particular variety is incredibly frilly when it flowers unimpeded.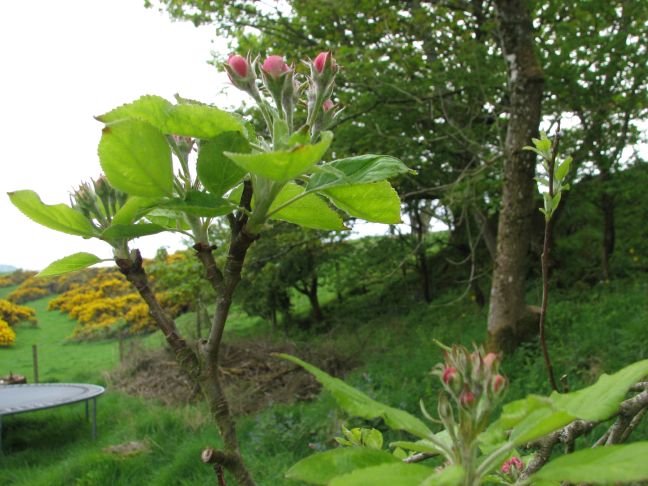 Apple blossom!
This next series is photos is all around the vicinity of the trampoline and the growing-very-slowly saplings we put in to create some shelter from our prevailing SW winds in this particular patch of our land.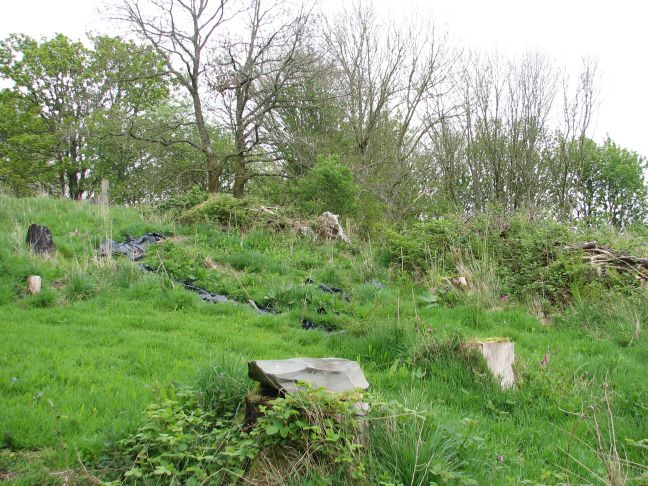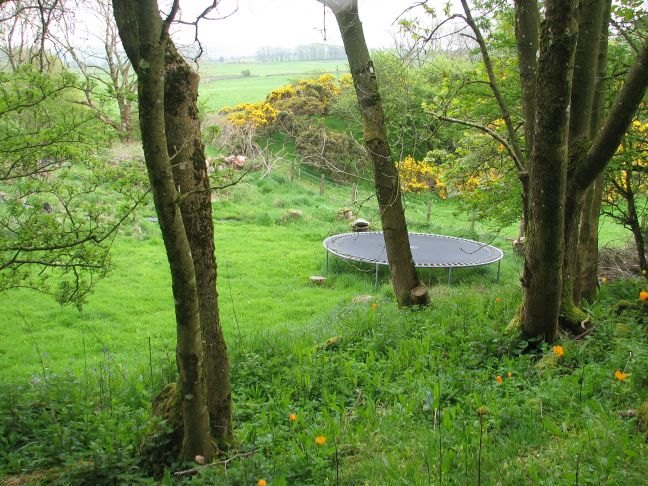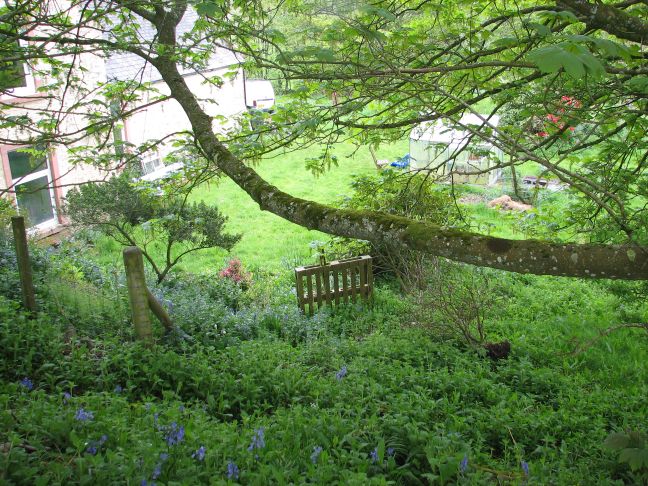 And now for our shelter belt – it runs along the NW boundary of our land, in most places fenced but not in others