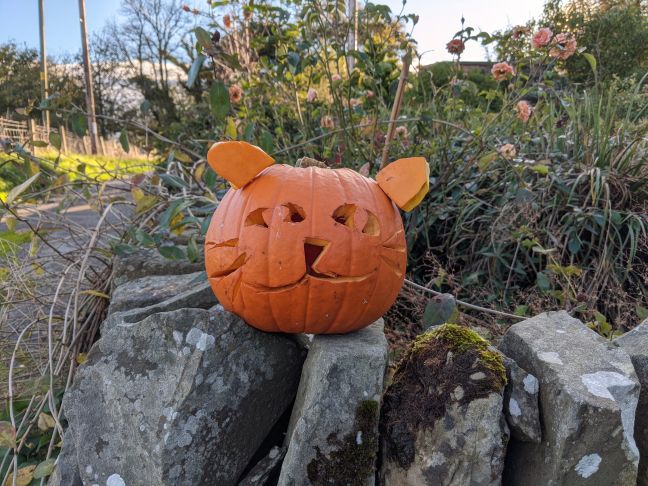 The month started in Whitley Bay staying with a dear friend and outstanding musician. In a theme that has continued on and off for several months, I was EXHAUSTED when I arrived which resulted in a blissfully dreamy dozing to the main act she'd been supporting (at the gig that was the instigator for the trip) – and given the music, that was entirely fitting. In its own weird way. As far as flesh in the water goes, only my hand made it in, but it was delicious to be close to another wonderful coastline.
November was a month of enjoying feeling like myself, enjoying being at Katrine Bank and enjoying the glories of Autumn. This won't be the only "pretty!" set of photos for November. You've been warned.
In my infinite wisdom I decided the time had come to redecorate what was my office and has now become my treatment room (and a guest room when needed). A fond farewell to the various adornments I had up and off I went. I hadn't quite allowed enough time (surprise!) but Quinten and Heather very kindly finished it off for me before heading off on their next adventures.
Gorgeous rainbow in Kirkcudbright – autumn sunlight is one of my favourite things.
More wool from a local small holding (via a new friend) got put out as mulch around the land. There are about 3 years worth of shearings to get through so I've got plenty more available! I also continued filling the trench Quinten & I dug behind the house with left over shower tray. The "artistic" shots (be kind…) were courtesy of my camera taking photos when I wasn't really paying attention. And what's that? Another photo of glorious autumn colours and sunlight? How did THAT get in there…
November was the month I officially took over the running of the NO HANDS Massage Company Ltd. I've been working there for well over a decade but this is definitely a new chapter. To celebrate I got myself a bottle of a non-alcoholic distilled drink and was going to cart these champagne saucers to drink it from. That went out the window fairly rapidly and it's been drunk (with various friends as part of the celebration) from various recepticles over the months. There's a small amount left which I've decided to save for another celebration I hope to be having in the next year or so. We'll see how that one pans out (and no, I'm not going to tell you what it is).
But yeah, that insane grin and super bendy thumb? That was a look I've been sporting a lot 😉
More pretty pictures of Autumn, you say? Why, go on then…
It wasn't all glorious sunshine – the mist hit big style while I was in Morecambe!
I was back up in Edinburgh again and the Persevere building really captured me. Ramen Ramen outdid themselves, although the tartan stuffed toy pocket dog I witnessed through the window was a bit weird…
New trees arrived (sweet gum, spindles and a new magnolia…that had been intended for my folks but they bought one before realising I'd got them one as a surprise so we decided to split the difference and plant it up here instead) – and one departed.
This one came down in Arwen – Barra took a limb but no full trees. There were MANY trees that came down in the winds near me but thankfully I wasn't personally impacted that much. It turns out this tree was fairly near end of life already – most of its large roots were clearly very rotted when the root ball was exposed. I was really struck by the whiteness of the inner wood – amazing.
Some housey bits:
The office put back together and ready for a series of chair-based treatments I did in December.
The kitchen – now complete with carpet (on most of the floor) and sofa! Also a photo from a dear friend's wedding which I now see several times a day.
And the most important thing: sustenance. I bought some ice cream cones because they were on special and they were THE BEST INVESTMENT EVER. Honestly, filling a cone and gnoshing it is ace. Must get some more…