When people ask me what it is I like about Morecambe my usual response is "I just fell in love with it!" before recounting my very first visit to Morecambe – the time when, completely unexpectedly on the connecting train from Lancaster, I found myself getting an overwhelming sense of going home. A feeling I'd never had before and I haven't had since – and that was before I'd even made it to Morecambe itself!
I'm all for going with my gut, but there are also tangible elements of Morecambe which are part of the reason I love it as a place and hope I'll always be able to come back here in some shape and form. A friend was asking about these reasons just a few days ago so it felt timely to jot them down. So what is it about Morecambe that works for me?
I've always loved being by the sea and by water. But it's the combination of Morecambe bay stretching out, with it's huge tidal range, and the backdrop of the South Lakes that makes Morecambe so special for me. Rather than the blank canvas of sea stretching out to a horizon, the perspectives offered by the hills and the bay itself still make me catch my breath. Being close to any body of water always opens up the sky (people generally don't build high-rise buildings on water!) but to have such a beautiful composition of the natural landscape to drink in is glorious.
For me the sense of space also extends to the buildings I've lived and worked in in Morecambe. Admittedly, not all Morecambe buildings are the same – but there are a whole host of glorious Victorian buildings in Morecambe that DO have that sense of space. The large rooms, the high ceilings, the solidity of thick stone walls. And I've been lucky enough to spend most of my time here in those glorious spacious buildings.
I don't know of anywhere else with the tidal range we have here in Morecambe. From the Spring tides with the water lapping at the Prom, to the wide (and I mean wide – several miles in some places) expanses of sand exposed at low tide, the power of the natural world is impossible to ignore. There are some great little plaques embedded along the prom that provide volume analogies for the amount of water – something like the amount of water that comes in in a single tide is equivalent to leaving a bath tap running for weeks on end (if not longer). It's just phenomenal. And with this twice daily change of water there's the associated renewal of the sands.
Having got interested in labyrinths in the past few years, being able to walk straight off the Prom on to the beach to the exposed sands (often with very little evidence of any other humans having ventured out since the tide receded) has been such a gift: a canvas for an impromptu labyrinth! And an impromptu labyrinth with SUCH a backdrop. Last night was one such occasion – and to walk along the Prom this morning and see my temporary labyrinth washed clean by the tide was wonderful. It seems some of the most precious things in my life are transient memories and experiences – and a labyrinth that's there one day and gone the next adds, for me, an even greater sense of mystery.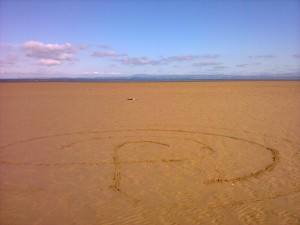 Nature and town "conveniences" side by side
Morecambe is, undoubtedly, an urban / sub-urban place. Apart from the bay, the town itself doesn't have much in the way of open green spaces – although it's only a few short miles to get out to open fields or slightly further to get to the hills of the Forest of Bowland and the Lakes. Personally I fairly rarely get out to these great places for walking – but there's something great about knowing they're there and accessible if I want them.
And yet… The Prom is a very rear boundary between this urbanised, built up environment with all the conveniences of a town – shops, leisure activities, restaurants, bars, hotels, you name it – and the raw power of nature in the Bay. The winter storms bring this home when huge waves bring the beach up on to the Prom occasionally – or when the level entrances to the Prom are stopped up with the barriers to prevent water flooring on to the road that runs along the Prom. I remember in London something close to this cross over with the Thames – but on a MUCH smaller scale.
A Walking Place
My personal experience of Morecambe has been one of the convenience of being able to walk everywhere. To the shops, to work, to the beach, to the train station. I've never lived anywhere before where things really were all within walking distance. Of course, some places are easier reached by bike, and longer distances by car but on a day to day basis I've had the joyous simplicity of falling out of my house and walking to wherever I need to get to. I hadn't done a huge amount of walking-as-transport previously (more of a cyclist) and it's a completely different way of travelling. The different things I spot, can engage with, the variation of routes. But most of all: simple. Me, my feet and, most of the time, a pair of shoes.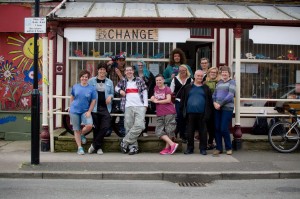 And now I'm here…the community
I fell in love with Morecambe independent of knowing anyone here – at the time I first moved it was simply because I had fallen in love. But over the years I've found out more about what's been going on, I've linked in to the communities and organisations a bit more and, I believe, there's been a resurgence or a new influx of energy to these communities. The arts / creative vibe around Morecambe at the moment is phenomenal – the public art, the artists and exhibitions, the ability to make art, it's just awesome. There are some long standing institutions like More Music but then there are also new-comers like The Exchange CIC and the Morecambe Artists Colony.
This weekend's West End Weekend had such an amazing feel – people meeting for the first time having been in touch online, or "Oh, I've heard of you but we've never quite crossed paths". People coming out and learning about new organisations and businesses that are doing great things around the corner from them. New connections, new friendships, new possibilities. It wasn't the reason I moved here – but it's one of those things that has deepened my love for this wonderful place.
And tied in to this: Morecambe has gone through a rough patch. There's no doubt about it and there's still evidence of this deprivation – sometimes right alongside new thriving businesses. But Morecambe's making a come back – from the large scale regeneration of the Midland Hotel to the fact that entrepreneurs and even home owners can afford to give an idea a go here in a way that other locations simply wouldn't be affordable (the extreme would be London, but even Lancaster or Carnforth).
I know Morecambe isn't for everyone – but it's certainly works for me.